UK shakes dust off open source policy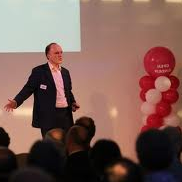 If it looked like UK open source policy, just recently exhumed, had already been swept back under the same carpet it has been kept under since it was first launched two and a half years ago, the announcement yesterday that Liam Maxwell had acquired responsibility for it with a Cabinet Office portfolio did surprisingly little to improve its mien.
It is then just as well Cabinet Office is about to announce long-overdue progress in its cause of creating a level-playing field for open source software. Because the new appointment will need all the help he can get.
No matter that Maxwell is head of IT and has taught at Eton, the toff school that groomed Prime Minister David Cameron for power. Whoopee-do that he wrote Tory Tech Policy and the open source strategy now being executed by the Cabinet Office. Yawn, 'scuse me, but it is of little significance that he did all this simultaneously and even as he held the ICT portfolio at Windsor & Maidenhead Borough Council, where he waved a shitty stick at Microsoft and championed open standards. He might appear like superman. But you'd have to think twice about it since he agreed to take this Cabinet Office job.
Because Maxwell's only going to be Cabinet Office Director of ICT Futures for 11 months. It was a full time job. Yet he's taken it on secondment with no explanation. As one interested observer put it, that gives him about a 0.00001 per cent chance of getting anything done.
Think about it, said this observer. He turns up at his allotted desk on 1 September. He learns where the toilets are and that sort of thing. That will take him till December. He'll then produce a report and call some meetings. But what will Sir Humphrey and all the other old goats in the civil service make of him?
"These are hardened civil servants who wait for ministers to go by, and for governments to change," said said observer. If they know he's only going to be there for 11 months, will they deign to jump when he says so?
Then Maxwell is said to be in possession of intelligence that the same attitude has been adopted by the Boo Hissstems Integrators who control the public sector ICT oligopoly.
Maxwell's assigned team have already been asking nicely would the integrators please do more open source software, on which they could less likely fleece government with oligopoly rents. Maxwell is said to be in possession of a report in which a Boo Hissstems integrator says, don't worry about all this open source lark, it'll blow over: just hang tight till this lot get voted out of government.
Some fringe elements in the civil service may have acquired outlandish ideas about getting things done since they started entertaining members of the Agile systems development cult, but they've got to be wearing some pretty loud disco trousers if they think Maxwell will get their agenda pushed through in just 11 months.
On top of open source he's been charged with making government the sort of place that gets things done. He might do that first. Then he's been asked to implement open standards policy, which was recently cut back, reform procurement for the sake of SMEs, and advise on using new technology.
A catty observer might ask why a man of Maxwell's talents wasn't given a permanent job. But the clue might be in the title. A "director of ICT futures", is like any futurologist, the sort of chap you put in a dicky bow and roll out to do slots on the radio about kerrazy ideas like floating cars and open source software. Mickey Mouse likes to wear a dicky bow. Maxwell, who's been seconded by Eton, might want to get back to some proper work when he's finished doing jazz hands for open source.
Non-job
The appointment took a vaudeville turn when Cabinet Office announced it yesterday. It had been talking to Maxwell about taking the "director of ICT futures" post since January. Ian Watmore was said to be keen on him. Tory Tech command was practically his brain child anyway. But there was some debate about whether he "could or should take the job", said someone close to the negotiations. It was a matter of some "delicacy" which remains unexplained.
Cabinet Office initially announced he had been appointed "Director of ICT Futures". Then said he wasn't actually going in at director level after all. He was going to be a non-permanent advisor though the job description was precisely the same as the one it had advertised for "Director of ICT Futures".
Whatever his title, many of those SMEs now in his care will be wondering if the Eton boy wonder's temp contract will be handled by Boo-Hissstems integrator Capita like all the other temp contracts it recently took from SMEs with Cabinet Office permission.
Chin job
The Cabinet Office has meanwhile managed after six months of work behind the scenes to establish another talking shop for its ICT policy. The long-promised open source advisory panel will have its articles of incorporation signed off Wednesday.
Computer Weekly was told the wet-ink proposal involves the production of a web site in which government departments can seek advice from "the community" on the acquisition of open source software.
The arrangements were made by the Public Sector Group of industry lobby Open Forum Europe, which in December (some two years after it formed) scored its first significant success by recruiting Cabinet Office operator Qamar Yunus as joint chair. It's membership is notable for its absence of big hitters from the heffing departments of state DWP, HMRC and MOD.
There are also unconfirmed reports Cabinet Office is about to produce the final open source reference stack (a list of approved open source software) on which it first sought advice from "the community" back in February. Verily, at this pace of change old Liam Maxwell could be in and out the Cabinet Office with such agility no one even notices he was there.