The Queen gets a gold-plated Wii
The Queen of England woke up today and had a Wii. (Sorry).
What I mean is that she received a Wii from THQ as they tried to promote a game (I forget what it's called… big something). What makes this Wii special is that it was gold-plated especially for the Queen as it is rumoured that she is addicted to Prince William's.
I think that is probably a slight exaggeration, she probably played it over Christmas and said something like "Oh, that was fun" and now she's an 'addict'.
Can you imagine her in Prince Williams' room at 2am trying to beat her record on Super Monkey Ball? Me either.
Still a gold Wii is quite cool.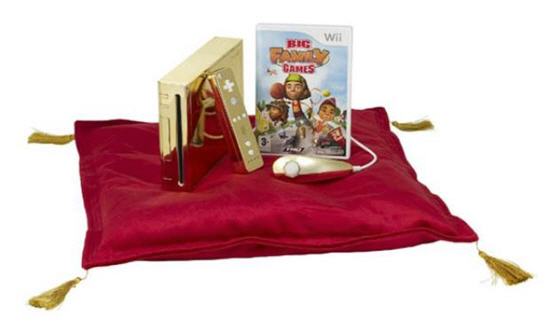 Here's the press release:
HRH The Queen of England received an unusual surprise today as a gold-plated Wii was delivered to Buckingham Palace.

Finished in gold, the unique Wii console was specially commissioned for the Royal Family to mark today's launch of brand new Wii game BIG Family Games – the perfect game for all the family to play together from publisher THQ Inc.

As the UK's ultimate family, the Royals also received one of the first copies of BIG Family Games to road-test their shiny new console.

Danielle Robinson, Product Manager at THQ, said: "BIG Family Games is the ultimate Wii game to get all family members, from grandparents to young children, playing together. The Royal Family is arguably the most important family in the country so we felt that they had to have a copy of the new game.

"But we thought that Her Majesty the Queen wouldn't want to play on any old console, so an extra-special gold one was commissioned. We hope that she and the rest of the Royal Family enjoy the game!"

The Queen and other members of the Royal Family will be able to use their new gold Wii to play 24 unique twists on classic family games including golf, tennis, ladder golf, lawn darts, horseshoes, bocce and more.

Her Royal Highness will be able to play through the game as a single player or get Princes Philip, Charles, Harry, and William, and even Camilla, involved when playing in multiplayer mode. HRH will even be able to create customisable characters for herself and the rest of the family.
Source: [Metro]