The top five job must-haves for IT professionals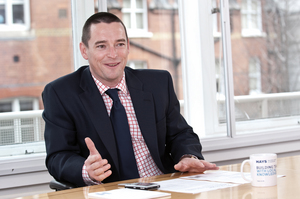 This is a guest blog from Lee Chant, UK and Ireland IT and telecoms managing director at Hays IT.
According to our latest research, 80% of IT workers will be dusting off their CVs and planning a job move in the next two years. With many of these starting their job search in January, employers will be facing tough competition for the skilled workers they need if they do not recognise the factors IT professionals value when looking for a new role.
The IT professionals we surveyed for the Hays IT Salary Guide told us these are the areas they care about the most:
1. Salary
Over half of IT employees said they haven't received a salary increase in the last 12 months, so we weren't surprised to hear that salary is the number one deciding factor for employees considering their career options. The good news for workers is that two thirds of employers expect to be able to increase salaries in the next 12 months, the return of counter offers looks set to increase salaries further.
2. Location
Location was the second highest priority for IT workers when considering a new role, with workers prioritising a convenient location when looking for a new job. Employers may not be able to relocate to attract staff, but should emphasise the benefits of their location and perks of the office when recruiting.
3. A challenge
The third highest priority for IT workers was a challenging role or projects. The fact that this is prized over a pension or bonus shows how crucial it is for employers to emphasise the career opportunities they can offer. Following in fourth were career development opportunities, half of IT employees said they do not think there is scope for career progression within their current organisation, so demonstrating a commitment to employees' professional development is a strong selling point.
4. Work-life balance
Flexible working options and a good work-life balance were the benefit most valued by employers looking for a new role, but only around half (52%) of employees currently receive these options. Although some high profile technology companies including Yahoo! have reversed their flexible working policies home working and flexitime are still attractive options to many.
5. Job security
Despite high demand for IT professionals, job security is still a priority in a new role. Only 16% of employees said they felt more secure in their job than they did 12 months ago, while 29% said they felt less secure than their job now, a slight decrease from 2012.
Employers face tough competition for IT skills in 2014, but offering a competitive salary and benefits package and understanding the motivations of employees will ensure that employers can attract and retain the people they need in the year ahead.
To find out more about the survey and salaries offered for a wide range of IT roles, view the Hays IT Salary Guide at http://www.hays.co.uk/job/it-jobs/-salary-guide/index.htm
About the author
Lee Chant is managing director of Hays Information Technology – www.hays.co.uk/it