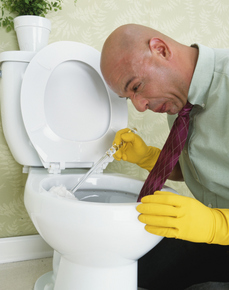 Apparently, half of Brits don't know how the Internet works – at least according to some research from Tata Communications that was published last week. Presumably the other half probably don't know what happens after you flush the loo.
Some people would argue: "We're not teaching all our kids to plumb. We're teaching them to code…" Perhaps we should. Do you know how much a plumber charges these days?
We asked Malcolm (pictured) from IT to find a solution to the big problem facing our colleagues after one of the downtime team paid a visit to the toilet. Time to flush the cache mate.