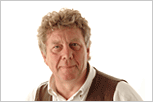 Fred the Shred, Doug the Thug and Jimmy the Shiv are nicknames for tough guys. Their monicker gives them a caché – a reputation for being 'ard. They often have metoric careers in business and end-up being surrounded by 'Yes Men' who, fearful of their own position, tolerate bully bosses.
In a conversation with a 'megatuff' who dropped his guard, he said his system of career advancement was quite simple. First find part of the organisation that is underperforming and offer to take on the challenge. Then centralise control and squeeze everything till the pips squeak – you'll always find some juice by attacking the cost base. As your credibility grows, fire someone (or two, or three) – you don't need friends just a reputation for wielding the axe and taking tough decision.
Finally, just as your department is appearing to perform – move on (that way you leave the next sap to take the blame as the short term 'turn-around' you created inevitably collapses). Repeat the process adinfinitum until you reach the top. However, as we've just seen, that's where the trouble starts. Once people with nicknames have bullied their way to the top arrogance, ruthlessness and centralist tendencies usually prove fatal for the rest of us.