The UK is the fifth most competitive IT market in the world, but the lack of sufficiently qualified IT professionals is still a major concern, according to the 2011 IT Industry Competitiveness Index produced by the Economist Intelligence Unit (EIU).
The report, which looked into the state of the IT sector in 66 countries, uses criteria such as overall business environment, IT infrastructure, human capital, research and development (R&D) environment, legal environment, and support for IT industry development.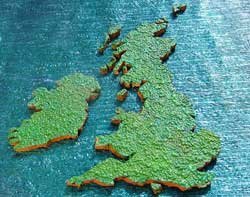 In the 2011 edition of the research, which was commissioned by the Business Software Alliance (BSA), the UK is ranked as the fifth most competitive IT market in the world, behind the US, Finland, Singapore and Sweden.
The UK scored top marks in R&D environment, where it moved up one place to 11th. It also climbed one position in the overall ranking from the previous report published in 2009.
However, this pales in comparison to the most upwardly competitive countries analysed by the EIU: Malaysia, for example, rose 11 positions to 31st and India climbed 10 positions to 34th. The fact that Singapore has also eclipsed the UK is also notable.
According to the EIU research, a number of factors contributed to the UK being overtaken by Singapore, such as the consistent decline in UK students choosing courses related to IT at higher education level - this compares to a much larger talent pool in the Asian country.
"It is abundantly clear from this year's index that investing in the fundamentals of technology innovation will pay huge dividends over the long term," said Robert Holleyman, chief executive of the BSA.
"It is also clear that no country holds a monopoly in IT. There is a proven formula for success, and everyone is free to take advantage of it. Because of that, we are moving to a world with many centres of IT power. In the years ahead, policy and business decision makers in the UK have an opportunity to build on that momentum. We know from global experience it will be worth the effort," he said.
"As the global economy starts to recover, it is more important than ever for governments to take a long-term view of IT industry development. Policy and business decision makers cannot just look at this issue on an annual basis, or they risk being left behind. They must assess the next seven to nine years, and invest accordingly, in order to make substantive gains in IT competitiveness."
Email Alerts
Register now to receive ComputerWeekly.com IT-related news, guides and more, delivered to your inbox.
By submitting your personal information, you agree to receive emails regarding relevant products and special offers from TechTarget and its partners. You also agree that your personal information may be transferred and processed in the United States, and that you have read and agree to the
Terms of Use
and the
Privacy Policy
.