The annual energy used to transmit, process and filter spam totals 33 billion kilowatt-hours (kWh), according to security software company McAfee.
This is equivalent to the electricity used in 2.4 million homes, and represents the same amount of greenhouse gas emissions as 3.1 million cars using two billion gallons of petrol.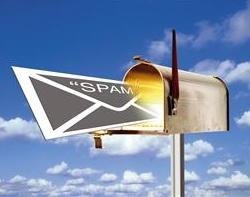 Jeff Green, senior vice-president of product development and McAfee Avert Labs, said, "Spam has an immense financial, personal and environmental impact on businesses and individuals. Stopping spam at its source, as well investing in filtering technology, will save time and money, and will pay dividends to the planet by reducing carbon emissions as well."
The Carbon Footprint of Spam study from McAfee looked at global energy expended to create, store, view and filter spam across 11 countries, including Australia, Brazil, Canada, China, France, Germany, Japan, India, Mexico, Spain, the United States and the United Kingdom. The study calculated the average greenhousee gas emission associated with a single spam message at 0.3 grams of CO2. McAfee said this was equivalent to driving three feet; but when multiplied by the yearly volume of spam, it is equivalent to driving around the earth 1.6 million times.
The study also found that nearly 80% of the energy used by spam comes from end-users deleting spam and searching for legitimate e-mail (false positives). McAfee, which produces its own spam filtering technology said that spam filtering would save 135TWh of electricity per year, which is equivalent to taking 13 million cars off the road.
Email Alerts
Register now to receive ComputerWeekly.com IT-related news, guides and more, delivered to your inbox.
By submitting your personal information, you agree to receive emails regarding relevant products and special offers from TechTarget and its partners. You also agree that your personal information may be transferred and processed in the United States, and that you have read and agree to the
Terms of Use
and the
Privacy Policy
.