CES: Samsung unveils projector mobile phone
Samsung used the Consumer Electronics...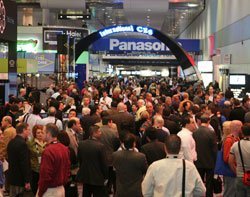 Samsung used the Consumer Electronics Show in Las Vegas last week to launch a mobile phone that can be used as...
Continue Reading This Article
Enjoy this article as well as all of our content, including E-Guides, news, tips and more.
By submitting your personal information, you agree to receive emails regarding relevant products and special offers from TechTarget and its partners. You also agree that your personal information may be transferred and processed in the United States, and that you have read and agree to the Terms of Use and the Privacy Policy.

a projector.
The Samsung Show device uses TI's DLP technology to project images onto a big screen.
The phone, currently only available in Korea, runs a proprietary OS and supports Korea's DMB-T digital TV system.
The Show device uses Samsung's TouchWIZ user interface, which includes a touch-screen and movable widgets.
The Show can project movies in a large-screen format, photo slideshows and TV shows. The phone can also be used as a flashlight.
Consumer Electronics Show website