IT professionals failing to drive green strategies at their firms
Although 98% of IT professionals want their organisation to put green...
Although 98% of IT professionals want their organisation to put green IT schemes into practice, only a third of them are taking individual action to drive such technologies in their workplaces.

Download this free guide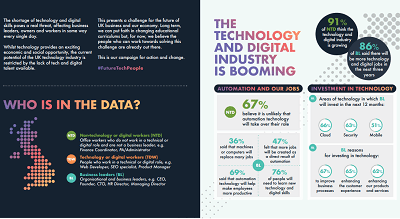 Infographic: Future-proofing UK technology
The current potential of the UK technology industry is restricted by the lack of tech and digital talent available. Read through this challenge for the future of UK business and our economy.
By submitting your personal information, you agree that TechTarget and its partners may contact you regarding relevant content, products and special offers.
You also agree that your personal information may be transferred and processed in the United States, and that you have read and agree to the Terms of Use and the Privacy Policy.
An independent survey of 304 IT pros commissioned by IT training firm Parity found a disparity between IT workers' knowledge about the business benefits of green IT, and actions IT departments are taking to drive environmental strategies.
According to 40% of IT workers, the greatest barrier to the implementation of such programmes is behavioural and cultural change.
This was at the top of the list, ahead of value added to the business, and time or cost implications. Parity believes this disconnect means more training in delivering green IT initiatives is required.
The research also revealed misconceptions about the potential for other elements of IT infrastructure to contribute to green strategies.
Whilst most IT workers are aware of the importance of power consumption, hardware and cooling in contributing to reducing environmental impact, only 7% consider IT business management processes an area in which significant improvements can be made.
On the positive side, IT staff recognise the contribution that changes to service management processes can make to green strategies. Two thirds of those surveyed thought this was an area in which a significant difference could be made.
"It is important that people have an accurate picture of how IT can contribute to their company's environmental strategy, and for the overall vision to translate into individuals' activities," said Rick Firth, managing director at Parity Training.
"Implementing ITIL service management standards can make a massive contribution to a company's green agenda. By retaining only those processes that are most valuable to end-users, and making them as efficient as possible, power consumption will be reduced.
"IT managers must ensure employees are trained properly in what they can do, and make their teams aware of the benefits seen by the business as a result," said Firth.