The National Archives sparked UFO mania after releasing previously secret Ministry of Defence files on suspected sightings.
The National Archives' files contained details of alleged alien abductions, sightings of flying saucers and crop circles.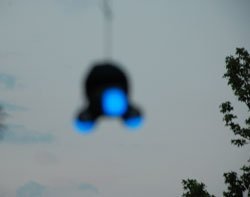 Global interest in UFOs peaked to an unprecedented level as internet searches for UFOs tripled overnight following the release of the UFO files by The National Archives.
According to figures from Hitwise, internet searches for UFOs increased by 267% on the day the UFO files were released.
The National Archives' UFO webpage attracted 264,285 visits on the first day of the files' release, five times more than usual. Over the next four days 1,348,054 files were downloaded.
David Thomas, chief information officer at The National Archives, said, "It just shows the fascination in aliens is very real. This launch exceeded our expectations and showcased our ability to deliver large scale projects in the face of sustained web traffic."
Released under the Freedom of Information Act, the eight UFO files were the first batch transferred to The National Archives by the Ministry of Defence (MoD).
In anticipation of the demand, The National Archives web team worked with UK managed hosting provider NetBenefit and their content delivery network specialist Panther Express.
Read more about UFOs:
French space agency to release UFO sightings database on web>>
British 'UFO hacker' to be extradited to US>>
Read more about The National Archives:
National Archives prevents lost digital data>>
National Archives merges with Office of Public Sector Iinformation>>
National Archives puts 1911 census online>>