Fred Olsen Cruise Lines, the Norwegian-owned, UK-based shipping firm, has saved nearly £40,000 by installing an e-mail security appliance to service its fleet and head office communications.
Andrew Ericsson, the company's IT and network manager, said the installation of two clustered MailMarshal e10000 appliances at its Ipswich head office had enabled it to slash the number of servers and software licences and the amount of time spent administering e-mail security.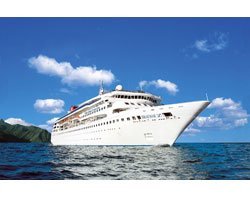 Fred Olsen had been using a software-based system, Mail Sweeper, for two years. But escalating mail traffic had made it unstable, said Ericsson. "We were getting 30,000 e-mails at day, 60% of which were spam," he said. "This was costing us 12 man-hours a day managing spam and reducing false positives."
A six-month appraisal of nearly all the leading e-mail and web security products produced similar functionality results, but MailMarshal came in at one-quarter of the prices bid, he said. "We had to sort out a few network problems at the start, but since then it's been a 'fire and forget' solution."
Fred Olsen's network uses 256Kbyte satellite links to carry voice, data and web traffic in a hub-and-spoke network between head office and its fleet of five cruise ships. Each ship has its own Exchange server and a Juniper proxy server that also compresses traffic to make the most of the limited bandwidth.
Traffic content includes both company confidential information and passenger traffic from on-board internet cafes. "This makes downtime very visible and critical for us," said Ericsson. "Previously we were having outages that lasted from 30 minutes to a day. Since the new appliance was installed, we've had no problems, and the number of false positives has dropped from 40-50% to 2%."
This has also freed manpower that Ericsson is deploying elsewhere in the IT department. The next big project is to relocate the company's head office, which will see its entire network infrastructure revamped. MailMarshal will still be part of it, said Ericsson.
Email Alerts
Register now to receive ComputerWeekly.com IT-related news, guides and more, delivered to your inbox.
By submitting your personal information, you agree to receive emails regarding relevant products and special offers from TechTarget and its partners. You also agree that your personal information may be transferred and processed in the United States, and that you have read and agree to the
Terms of Use
and the
Privacy Policy
.