Storage news weekly:Sun storage revs eclipsed
Data storage continues to be a struggle for Sun, according to the company's quarterly earnings report. One bright spot is Thumper, and Sun is working on more products like it.
Weekly compilation of storage news:
Sun storage revenues sink
Sun Microsystems has reported that its overall revenues were up last quarter, marking a turnaround for many of its business units after a tumultuous year for the company in 2006. In contrast to a net loss of $301 million in the previous year, last quarter showed a net income of $329 million.

Download this free guide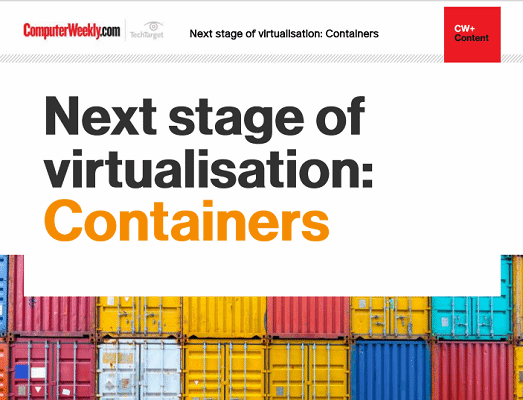 Next stage of virtualisation: Containers
Who doesn't love building blocks? Following the burst of cloud computing, containers are becoming a necessity for all organisational transformation and development. Follow us as we go through the technologies that complement and enhance their use, and outline a first-hand insight into the impact.

By submitting your personal information, you agree that TechTarget and its partners may contact you regarding relevant content, products and special offers.

You also agree that your personal information may be transferred and processed in the United States, and that you have read and agree to the Terms of Use and the Privacy Policy.

However, the data center business unit, which includes servers and storage, reported $639 million revenues in the quarter, a decline of 10% from the same quarter last year. CEO Jonathan Schwartz acknowledged, on the company's earnings call, that "overall, the top line [numbers are] not what we would like [them] to be." He attributed the decline to weakness in storage spending in the U.S., which has also been given as a reason for falling revenues by Network Appliance (NetApp) this year.

However, Schwartz reported that the company had shipped 20 petabytes (PB) of the SunFire X4500 server, aka Thumper, in the quarter, and that the product has shown an annual billing run rate of $100 million. Schwartz said the company is currently going through "a difficult transition as we move to Solaris-based systems." He added that more server/storage hybrid products, like Thumper, would be coming from Sun over the next year.

Bocada adds plug-in for NetBackup PureDisk
Data protection management (DPM) software vendor Bocada announced new support for Symantec's Veritas NetBackup PureDisk data deduplication software with its Bocada Enterprise 5 NetBackup PureDisk plug-in, which will allow reporting and troubleshooting for the Symantec product. The plug-in, according to a press release, "will be generally available this summer."

ONStor lands $27M, announces customer
ONStor announced it has closed a $27 million mezzanine round of funding. New investor Sand Hill Capital joins existing investors Foundation Capital, Mayfield Fund, ComVentures and Worldview Technology Partners. Officials have since said publicly that they are planning to pursue an initial public offering (IPO) sometime next year.

In a separate release, ONStor announced that backup service provider CoreVault, a privately held division of DWL Holding Co., an affiliated company of Dobson Telephone, has chosen its Bobcat Series network attached storage (NAS) gateway and mirroring software for disaster recovery. CoreVault purchased one high availability cluster of ONStor Bobcats for its primary production site and one single node for its secondary site about 150 miles away.

RTC stores Exchange and file services data on NetApp
NetApp announced that a Swiss provider of outsourced banking services, RTC, will use NetApp storage for its Microsoft Exchange and midrange file services offerings. RTC processes the data of over four million Swiss bank customers and Switzerland's 56 regional banks outsource their IT to a regional banking service provider, which in turn uses RTC's IT services. The company bought a bundle of primary storage, disaster recovery and disk-to-disk backup products.

Asigra updates virtual server backup
Asigra announced version 7.0 of its Televaulting software, which will move it completely from a 32-bit to a 64-bit operating system, running on 64-bit hardware and supporting 64-bit applications, including virtual servers. Version 7.0 also has a new feature that will allow restore from one virtual server type to another, as well as restores from physical to virtual servers and vice versa.

Unitrends embeds encryption for SMBs
Unitrends announced its InCrypt encryption product, a data backup and encryption appliance for small and mid-sized businesses (SMB). InCrypt encrypts at-rest and in-flight data with a module that can be added to Unitrends other products to make one appliance, including data encryption, offsite electronic vaulting and bare-metal restore for operating systems, applications and data. The module is available now and priced at $3,995 for a 2U appliance and $5,995 for 3U and 5U appliances.

Iomega announces new network hard drives
Iomega announced a new lineup of StorCenter network hard drive products aimed at small office/home office (SOHO) customers. Three new StorCenter models, ranging in storage capacity from 500GB to 1 terabyte (TB), also incorporate media-serving and print server capability. They also include Active Directory support, journaling file system and EMC Retrospect Express backup software. The 1 TB version is available for $389; 750 GB for $359 and 500 GB for $269.

Vembu targets service providers with data backup software
Vembu Technologies, which makes data backup software marketed to remote office/branch office (ROBO) environments, unveiled a new version of its StoreGrid backup software. StoreGrid's Service Provider Edition, targeted at companies offering online backup services to SMBs, supports disk-to-disk (D2D) backup and allows service providers to back up their customers' workstations and servers to a remote backup server.

EMC and IBM extend mainframe interoperability
EMC announced the extension of a licensing agreement with IBM that will allow customers to continue using EMC and IBM products in IBM System z mainframe environments. As part of the multiyear agreement, IBM will provide EMC with updated specifications for continued compatibility between EMC's Symmetrix arrays and IBM mainframes. Financial terms are not being disclosed.

ExaGrid reports sales growth
ExaGrid announced that sales of its disk-based backup products for the quarter ending June 30, 2007, were up 115% compared to the second quarter of 2006. The company also launched sales and marketing efforts in Asia-Pacific, opened new offices and signed six new resellers.

LSI samples new batch of disk drives
LSI announced that it has begun shipping sample quantities of its 65-nanometer multi-interface Physical Layer (PHY) for hard disk drives (HDD) in notebook and desktop personal computers as well as enterprise storage systems. The company claims increased performance and lower overall system power with the new version of the PHY, a component of an integrated circuit that serves as the electrical interface which performs the data transmission between the HDD and the host.

HP partners with Asempra
Asempra Technologies, which targets the midmarket with its backup and continuous data protection (CDP) products, announced it is has been named a gold level developer in Hewlett-Packard's (HP) Information Lifecycle Management (ILM) Partner program. Asempra, in business since last September and with a total of less than 50 end-user customers, also recently announced a partnership with IBM.
Read more on Integration software and middleware