Start-up success: a guide
Not since the dotcom boom has there been a better time to start up a UK IT business. Cath Jennings finds out about the three elements necessary to establish a start-up company: innovation, capital and a top team
For aspiring entrepreneurs the UK business environment is as friendly as it has been since the dotcom boom. The economy is steady, people are starting to buy IT and telecoms equipment again after the barren years of the early 2000s, and the concept of entrepreneurship is much more accepted than it was even a decade ago.

Download this free guide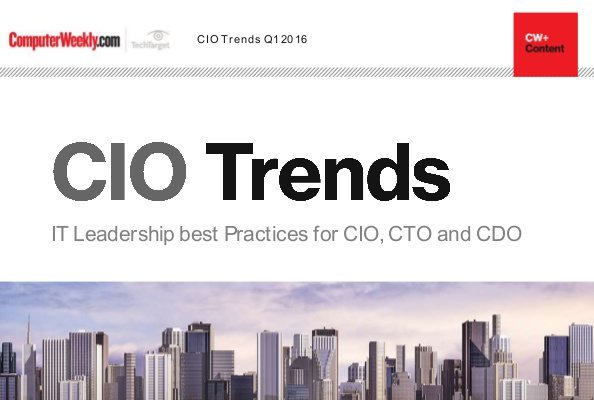 Your exclusive guide to CIO trends
A collection of our most popular articles for IT leaders from the first few months of 2016, including: - Corporate giants recruit digitally-minded outsiders to drive transformation - Analytics platforms to drive strategy in 2016 - Next generation: The changing role of IT leaders.
By submitting your personal information, you agree that TechTarget and its partners may contact you regarding relevant content, products and special offers.
You also agree that your personal information may be transferred and processed in the United States, and that you have read and agree to the Terms of Use and the Privacy Policy.

Moreover, negotiating the mechanics of starting a UK business is much easier for the average Briton than it is for our European neighbours. It is possible to buy a company off the shelf without permits, and hiring and firing is not as heavily regulated.

On top of this, initiatives such as the Enterprise Investment Scheme, which provides tax breaks for private investors, along with venture capital trusts and the growth of the Alternative Investment Market (Aim), have all encouraged private sector funding.

Another useful phenomenon is the creation of innovation clusters in certain areas of the country. These include Cambridge, which specialises in software, semiconductors and biotech; London, which hosts start-ups of all stripes, but is particularly known for medical and financial software; Oxford, which has an engineering system bias; and Silicon Glen in Scotland, which tends to be software-oriented.

David Gill, a director of venture capital firm ET Capital that produces the "Funding Technology" research series, says, "Clusters matter because a new business is more likely to find relevant professional advisers, sources of capital and suitable premises on its doorstep.

"Most importantly, clusters mitigate some of the downside risk for key employees moving from an established player to work in a start-up." This means that should the start-up company fail, they can potentially find another job with one of the dozens of other IT firms in the area.

As to where investment is currently being focused, it ranges from mobile and "green" technologies, Web 2.0 and social networking websites, to internet security - although this tends to be something of a moving target. Enterprise software, however, is consistently tricky to find funding for because of huge competition from large suppliers such as Microsoft and Oracle.

So what does it take to be an entrepreneur? According to David Richmond, author of "The Software Entrepreneur's Template" and partner at Software Success as a Service, a consultancy for software start-ups, such people tend to be persuasive communicators who are hugely focused, have very high motivation and are able to learn from past mistakes.

Those starting a business also have to be prepared to work long hours and "take a lot of knocks". For example, Richmond, a serial entrepreneur himself, says, "Raising venture capital money is a brutal experience. People can be really critical, so it can be a pretty bruising experience if you are a delicate flower."

Nonetheless, finding suitable financing is only one part of the "three-legged stool" necessary to get a business off the ground. The first and most obvious step is to come up with an innovative and commercial product or services concept. After financing is secured, the next step is forming the right management team.

In terms of funding, obtaining initial seed capital to fill the crucial £100,000 to £500,000 funding gap is the most difficult, says Rod Dowler, chief executive of zoomf.com, a property search engine start-up.

This is not least because banks are rarely prepared to provide unsecured loans on new business ventures. However, Dowler points out that for companies working on a shoestring, it is possible to obtain tax relief by claiming research and development tax credits, which can ease cash flow problems.

The most likely starting point for financing, however, is a business angel or private investor, who will also input their own expertise. Angels typically provide between £15,000 and £20,000 of their own money, although the figure has been known to rise to as high as £500,000.

Finding such people involves persistent networking and can take as long as six months of often full-time work. This can be difficult for those still in full-time employment or relying on savings or rich parents and friends. A good place to start, however, is the British Business Angel Association, which can suggest possible intermediaries.

Another option is to try to get a government grant from entities such as Business Link or a local Enterprise Development Fund. But this can be a difficult proposition as there is no one-stop shop to mediate the more than 4,000 schemes available - although the government is currently working to rationalise these down to about 12.

Easier to negotiate is the National Endowment for Science, Technology and the Arts (Nesta), which was set up in 1998 to invest in early-stage companies and promote innovation in the UK. The organisation has endowed funds of about £300m per annum which it obtains from the National Lottery, but it also provides other commercial support services.

Once initial funding has been secured and the business is making sales, the next step is to go for mid-stage institutional or venture capital financing. Such organisations will generally provide between £500,000 and £2m, while later-stage funds will offer no less than £2m because the investment risk is less.

Mid-stage funding organisations also provide standard templates and checklists of what they require to help with initial applications. However, as a minimum you will need to already have a coherent business plan and an "elevator pitch". As Gill says, "If you cannot summarise what you do in three sentences and sell yourself in three minutes, you will not get the chance to pitch at all."

He also says that as few as 1% to 2% of candidates will succeed in obtaining funding, not least because most venture capital organisations in the UK are "very stretched", which means they tend to go for safe bets.

Moreover, such firms also expect to take a seat on the board, which some people find hard to swallow. However, David Bailey, chief executive of game technology start-up company Short Fuze, says, "You have to realise that there are benefits in giving up some control. Investors are there to help you grow the business because they are there to make money, not to punish or criticise you."

While Bailey acknowledges that after working on an idea you may feel a certain ownership, he also says that, "successful people are successful for a reason - because it pays to listen to advice and more than that, to act on it".

But it also pays to listen to users. Doing research to understand their business, what they want and how to service that need is as important - if not more important - than any clever idea. Because without that market knowledge, it will be impossible to make money and keep the company afloat into the longer term.

According to Richmond, getting to grips with commercial realities is a make-or-break issue. This means that the starting point for any new venture should actually be its exit strategy, whether that means taking the company public, selling it or growing it.

"Most people do not figure out where the end game is, but if they do not know the destination they are not going to know which road to take - and that is a weakness of just about every business plan I see.

"This is because using different routes to market can fundamentally change the product, even if the original idea is the same."

Failure to get the channel strategy right is likely to lead to a lack of sales and will result in a business model that is not scaleable. "The first thing to do is your market research. Then build a quality product or early stage prototype, find your first reference customer, expand the home base and then take it international.

"It is hard to deal with these constant metamorphoses, but you have got to grow a multitude of skill sets to make this work," says Richmond.

Another critical success factor is getting a balanced management team in place from the outset, with a good mix of commercial and technical skills.

A finance director is required to keep an eye on income and cash flow and work out how much money is required to run the business. A marketing professional is necessary for market research, pricing and publicity purposes, but a sales director is the most crucial of all.

Stephen Allot, executive chairman of management consultancy Trinamo Consulting, which specialises in helping software start-ups, says, " Most IT entrepreneurs are technology-led, and while there are loads of good sales people in the UK, they do not tend to hook up with IT. So IT people often do not have good sales people around them and that causes a lot of problems."

This means that, while the UK is bursting with good ideas, commercial management tends to be weak. But as Malcolm Wood, chief executive of voice over IP start-up Camrivox points out, failure to build this side of the business up is a fatal flaw.

"Investors do not invest in an idea. They invest in a business, which means the management team and the commercial strategy, not the technology. This means that you are measured on delivery and on how well you manage the commercial opportunity - so really the head of a small company has to be a salesman," he says.

For those without commercial acumen, help is at hand in the form of Enterprise Accelerator, which aims to equip budding entrepreneurs with the necessary business skills and contacts to move their ideas forward.

The organisation introduced a national pilot at the start of the year, funded by Nesta and the Department of Trade and Industry, and will licence its training scheme to Regional Development Agencies later this year.

These organisations can help, but businesses must have the right attitude from the outset, says Gill. "Never forget that you are not just building one product, but a business, so run it from the outset with proper corporate governance.

"If you run it like a big company, it makes you step up to the plate and you will behave like one of the big boys from the start."

● Technology start-ups are invited to contact Computer Weekly atinnovation@computerweekly.com

British Business Angel Association >>

A good time for technology start-ups >>

Comment on this article: computer.weekly@rbi.co.uk
E-Zine

E-Handbook

E-Handbook
Read more on IT for small and medium-sized enterprises (SME)