Privacy watchdog queries US access to airline data
Australia's Federal Privacy commissioner is investigating the US Customs and Border Protection Agency's online access to data of...
Australia's Federal Privacy commissioner is investigating the US Customs and Border Protection Agency's online access to data of passengers on Australian airlines.

Download this free guide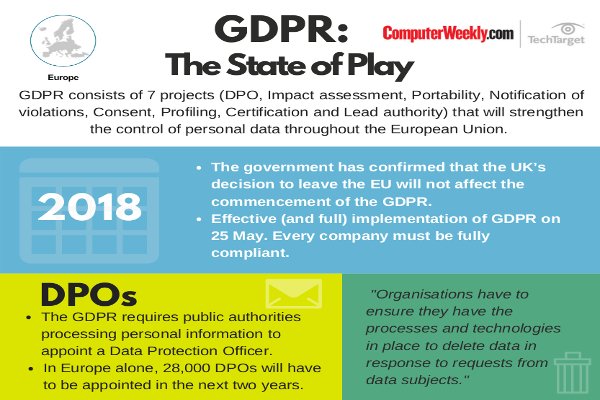 Infographic: GDPR - The State of Play
Get the latest information on how GDPR is going to affect your business and how to avoid any unwanted fines with this simple infographic.
By submitting your personal information, you agree that TechTarget and its partners may contact you regarding relevant content, products and special offers.
You also agree that your personal information may be transferred and processed in the United States, and that you have read and agree to the Terms of Use and the Privacy Policy.
Commissioner Malcolm Crompton is yet to make a ruling on the data transfers but views it as "sufficiently serious to warrant investigation".
The investigation follows similar moves overseas after the US data transfers by European airlines outraged European Union privacy advocates.
Crompton said it is not clear how much personal information flows from Australian airlines to US authorities or the level of privacy protection it receives.
This includes clarification on the level of privacy protection used for sensitive information provided by the Department of Immigration.
"It is important to protect the safety and privacy of people who are flying, as well as the community generally. This means striking a balance regarding information flows about airline passengers and the uses of that information," Crompton said.
Unisys spokesperson Tony Roulston said the company's Advanced Passenger Information System database transfers passenger data to the authorities at an aircraft's destination but he argues that forwarding the passenger manifest is nothing new.
"What has been happening, and it is just a natural part of air travel, is that as passengers are being boarded onto a plane, you create a passenger manifest," Roulston said.
In the UK a spokesman for the office of the information commissioner, the data privacy watchdog, said that it was in discussions with the European Commission over how to clarify US data protection safeguards.
A coalition of EU privacy groups is campaigning against an agreement in March with the US Customs and Border Protection Agency.
Under the agreement, the EU agreed to provide the agency with online access to data from all Europe-based carriers that fly to, from or through the US.
"There are no safeguards or restrictions on these data transfers," said Maurice Wessling, president of the European Digital Rights (EDRI) privacy coalition which represents 10 privacy and civil rights groups from seven EU countries.
Read more on IT legislation and regulation