Virtualisation, SSD, dedupe surviving recession
Storage vendors in the U.K. are banking on virtualisation, solid-state storage, deduplication and refreshed modular arrays to get through tough economic times.
It's nearly the second quarter of 2009, the recession is upon us and the world of storage is changing. It's not an economic apocalypse yet, but this recession could become a depression. Storage vendors are already placing their bets on those technologies that will help them ride out the storm: virtualization, solid-state drives (SSDs), data deduplication and refreshed modular arrays.

While not as commonly used as hypervisors that virtualise servers, there are storage virtualisation products that present multiple arrays from different vendors as one pool. IBM's SAN Volume Controller (SVC) is the most popular product with more than 15,000 units in use, and Hitachi Data Systems' Universal Storage Platform (USP) performs virtualisation in the array. NetApp's V-series gateways also allow users to manage storage from other vendors. EMC's switch-based Invista product has been a flop, but the other three products let you avoid lock-in with individual array suppliers, although they do lock you into the vendor supplying the virtualisation device.

Download this free guide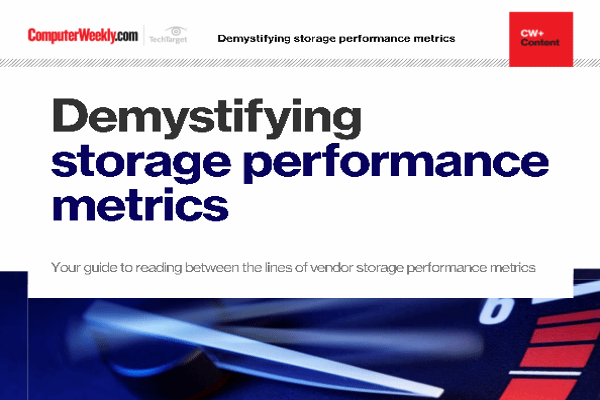 The truth behind storage metrics
Key storage metrics you need to know and how to decode IOPS, latency and read/write performance figures
By submitting your personal information, you agree that TechTarget and its partners may contact you regarding relevant content, products and special offers.
You also agree that your personal information may be transferred and processed in the United States, and that you have read and agree to the Terms of Use and the Privacy Policy.
Deduped SSDs could have their effective storage capacity raised two or three times by deduplication.
,
Meanwhile, the incredible rise of VMware has caused storage provisioning to move into an ever-tighter orbit around ESX. Vendors such as 3PAR and LeftHand Networks (now owned by Hewlett-Packard [HP]), among others, are crafting closer integration with VMware, while Cisco Systems is building virtual switches and aiming (it seems) to bring out its own servers running ESX. We can expect the appearance of re-invented mainframes with virtualised bladed server, storage and network resources presented as a single logical system. This is a consequence of the appearance of big data centre switches with storage networking facilities, and integrated or built-in server resources from Cisco (Nexus), Brocade (DCX) and possibly Hewlett-Packard (ProCurve). Sun Microsystems can already do this.

Solid-state drive vendors are thirsty for volume sales to netbook and storage array users. The key, more than anything else, is cost per GB, as well as a definite performance boost and write-cycle endurance. Intel has made substantial price cuts on its SSD range and Seagate should enter the ranks later this year with its own products. We can expect SanDisk, fortified by financial arrangements with Toshiba and better SSD architectures, to be aggressive in lowering prices. By the end of the year, I expect netbook SSD penetration to have risen markedly and notebook SSD use to have made a perceptible uptick.

Server solid-state disk use should also become more noticeable. Fusion-io's ioDrive technology will be taken up by OEMs such as Dell and IBM, while Sun will deliver servers with write and read flash caches plus server system software specifically coded to use them for working data.

Hitachi Data Systems, NetApp and others will deliver array products with SSD storage tiers, but these will be expensive and positioned as affordable replacements for short-stroked Fibre Channel (FC) drives. Data deduplication technology could change this.

Dedupe has now become a standard feature for storing backup and archive data at the enterprise level and this will spread into the midrange business market – think Acronis and maybe low-end Data Domain products. I expect to see dedupe spread into secondary storage on tier 2 drives in tiered subsystems. There wouldn't be as much benefit as with backed-up data – there's less redundancy – but there would be some and it would decrease the number of drives needed and their power draw.

In-line data deduplication array supplier Data Domain believes dedupe should be a standard technology in drive arrays. The company is slated to release an eight-core Xeon-based controller model later this year. If populated with 2 TB SATA drives, you'll have an amazingly compact array with dedupe storage efficiencies.

Deduped SSDs

Data Domain is also pushing the idea of deduplication for solid-state drives and that opens the door to a product with SSDs for primary or transaction data, and SATA for secondary data. Deduped SSDs could have their effective storage capacity raised two or three times by deduplication, which would cut the cost per GB. If this comes to fruition, it could open the door to a whole new way of building arrays.

The modular array market is the heart of the storage business. It's where the most money is made and it's where multigenerational products last for decades. We've recently seen EMC update its Clariion CX line, Hitachi Data Systems update its Adaptable Modular Storage (AMS) line and Sun do the same with its 6000 line. We should expect a refreshed HP Enterprise Virtual Array (EVA) line with new midrange and top-end models.

There will be tinkering at the edges. SAS will enter the modular storage world in a bigger way, small form factor (SFF) 2.5-inch drives will start being used to boost I/O rates and SSDs have already started appearing. Thin provisioning is becoming a standard feature, too. It's been a surprise that technologies from 3PAR, Compellent, Pillar Data Systems and Xiotech, which are proving to be profitable and popular in the recession, haven't prompted a bigger "me too" reaction from mainstream vendors or a round of acquisitions. Dell bought iSCSI-based EqualLogic and HP purchased LeftHand Networks, but that was it. How big do the newcomers have to get before they start impinging on the revenues of established vendors?

A big event for NetApp customers will be the delivery of Ontap 8.0, the unification of ordinary and mainstream 7G and clusterable GX. NetApp said the delivery of a global namespace across clusters of NetApp arrays will be a godsend to its customers.

At the high end, we expect a new Symmetrix generation, a DMX-5, to appear, but we have no details to date of what's involved.

What about cloud storage? My feeling is that 2009 will be a year of stepping away from cloud intoxication and taking a more sober look.

Chris Mellor is the storage editor at The Register
Read more on Storage management and strategy