Budget 2010: Industry welcomes shot in the arm for IT training
Organisations have welcomed plans announced in yesterday's Budget to improve training and education in technology.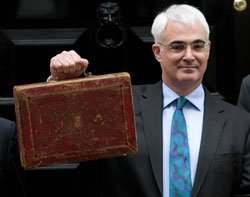 Organisations have welcomed plans announced in yesterday's Budget to improve training and education in technology.
The chancellor Alistair Darling announced funding for 20,000 training places in higher education to study science, technology and mathematics.
But the government's extension of its Backing Young Britain initiative until March 2012 was the most significant announcement for the IT industry, said IT training body CompTIA.

Download this free guide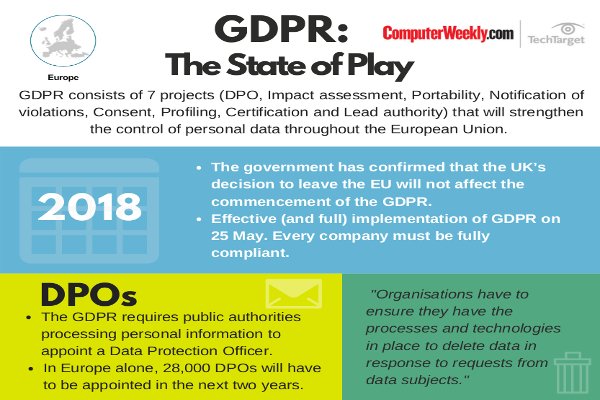 Infographic: GDPR - The State of Play
Get the latest information on how GDPR is going to affect your business and how to avoid any unwanted fines with this simple infographic.
By submitting your personal information, you agree that TechTarget and its partners may contact you regarding relevant content, products and special offers.
You also agree that your personal information may be transferred and processed in the United States, and that you have read and agree to the Terms of Use and the Privacy Policy.
"Companies willing to offer jobs and experience will have access to advice and financial support. This represents an excellent opportunity for the IT industry, which is struggling to attract young people," said Matthew Poyiadgi, European vice-president at CompTIA.
Broadband
The government's confirmation of its plans to roll out high-speed internet access to 90% of the population by 2017, funded by a 50p tax on landlines, attracted much comment.
Widespread access to broadband is essential if the government is to cut the cost of public services by moving more transactions online.
Barry Murphy, UK technology leader at PricewaterhouseCoopers, said the biggest challenge faced by the government will be to ensure that disadvantaged members of society and those in rural areas gain equal access to online services.
"Fixed-line capacity can be improved in urban areas, but the bigger challenge will be to look at rural areas where coverage is less well developed. Reaching out to the elderly and the disadvantaged should be a priority," he said.
Tax breaks
The government's offer of tax breaks for the UK computer games industry, provides the sector with a much needed shot in the arm, said Jonathan Kestenbaum, chief executive of the National Endowment for Science, Technology and the Arts.
"It will help restore the sector to its world-class position, but only if it goes hand-in-hand with encouraging the development of intellectual property and finding new forms of finance," he said.
Computer games developers are facing strong competition from territories such as Canada, France, Singapore and some US states, which offer generous tax breaks.
This has led to a brain drain of talent from the UK.
Barry Murphy, UK technology leader at PricewaterhouseCoopers, said, "The games industry has long argued for support to step the drift of talent and jobs from the UK. Just how much support is in the rules we still need to see, but if modelled on the film tax relief rules there is at least a well understood base to work from."
But Niki Dixon, head of technology at Grant Thornton, said, "It may be some time before the video games industry starts to feel the benefits of any tax relief and the announcement will do little to ease the immediate challenges facing the industry as it competes on the global stage. The tax relief is also dependant on the outcome of the election as there is no guarantee that the measure will be implemented if there is a change of government."
Dixon said that, overall, it was unfortunate that the Budget did not contain more to boost technology.
"With the exception of the video games tax relief, it was disappointing to see that there are few other industry-specific measures announced in the Budget outside promises of funding support for university spin-outs," said Dixon.
However, technology business could benefit from measures announced to encourage investment, such as the extension of Entrepreneur's Relief and the modernisation of the rules around Venture Capital Trusts and the Enterprise Investment Scheme to meet EU requirements.
"There will be a relaxation of the rules requiring businesses to operate mainly in the UK, which will be replaced with a requirement to operate only a part of the business in the UK. This will make it easier for technology businesses which operate in multiple locations to qualify for these schemes," he said.
Read more on IT legislation and regulation