IBM is in advanced talks to buy Sun Microsystems, valued at approximately $6bn (£4.1bn). The sale raises questions over the future availability of Sun's hardware and software products, and long-term support for IT departments.
A deal would allow IBM's share in the server market to grow to 42%, which would position IBM to compete head-on with the likes of Hewlett-Packard, Dell and Cisco.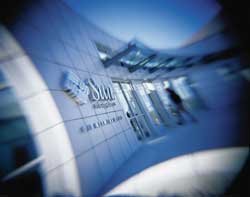 IBM may also be better placed than Sun to turn the latter's software business to profitability and therefore to compete with Microsoft on platform and office productivity technology.
Sun, founded in 1982 by three Stanford graduates, made its name developing cutting-edge technologies such as the Sparc microprocessor architecture, Java and OpenOffice. Yet recently, Sun has lost ground against rivals HP, Intel, IBM and Microsoft.
Many think that Sun simply took too long to support the Intel industry standard PC architecture, allowing Windows Server software running on Intel-based server hardware to muscle-in on Sun's home ground - supplying high-powered servers to high-tech start-ups.
Sun has struggled against falling demand for hardware this year. In the second quarter of its 2009 financial results it reported net income of $140m, down from $409m in the last quarter of 2008. According to Sun CEO Jonathan Schwartz, IT departments are cutting back on buying Sun servers and storage products in the downturn.
Sun's recent acquisitions, such as its $1bn purchase of MySQL and the $4.1bn acquisition of StorageTek in 2005, have not paid off in the way the way the investment community would have liked.
"The MySQL purchase was intended to give Sun a lynchpin role in the open source world. But the shift to get open source religion was too late. The acquisition is not going well for either side: Schwartz clearly overpaid by hundreds of millions of dollars, while MySQL is being strangled by the Sun bureaucracy," says Joel West, associate professor at San José State University, in a blog post
So if Sun needs to be sold, the question is whether IBM is the best suitor?
How will Sun shine in Big Blue?
Clive Longbottom, service director at Quocirca, says it would make more sense for Fujitsu, rather than IBM, to buy Sun. They already have common ground: Sun uses Fujitsu to manufacture its Sparc processor, and Fujitsu already sells Solaris servers.
Longbottom believes that if IBM does purchase Sun, it should make Java open source, making Java ubiquitous and licence-free.
IBM has a choice. Either hand over Java and MySQL to the open source development community Eclipse, or offer a viable software alternative to Microsoft. Some would argue than the open source community is a better home for MySQL and Java than Sun or IBM.
But that still leaves Sun's server, workstation, storage and Solaris businesses, which do not fit well with IBM's current product portfolio.
---
Email Alerts
Register now to receive ComputerWeekly.com IT-related news, guides and more, delivered to your inbox.
By submitting your personal information, you agree to receive emails regarding relevant products and special offers from TechTarget and its partners. You also agree that your personal information may be transferred and processed in the United States, and that you have read and agree to the
Terms of Use
and the
Privacy Policy
.