Where now for NHS National Programme after Fujitsu exits?
Termination of local service provider's contract follows wider concerns among some officials that the NPfIT is dated in concept as well as practice
Only 10 days ago a deal aimed at rescuing the NHS's National Programme for IT in the south of England seemed imminent.
Officials and Fujitsu had spent nearly a year negotiating changes to a 10-year contract worth £896m, signed in January 2004.
The two sides had agreed a deal in principle. Papers were ready for signing by David Nicholson, the chief executive of the NHS, who is also the predominant senior responsible owner of the £12.7bn National Programme for IT (NPfIT).

Download this free guide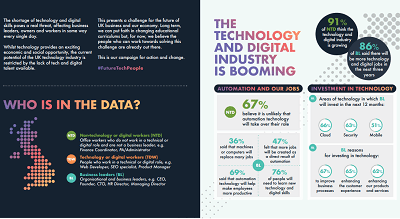 Infographic: Future-proofing UK technology
The shortage of technology and digital skills poses a real threat, affecting business leaders, owners and workers in some way every single day. Whilst technology provides an exciting economic and social opportunity, the current potential of the UK technology industry is restricted by the lack of tech and digital talent available. This presents a challenge for the future of UK business and our economy. Long term, we can put faith in changing educational curriculum but, for now, we believe the people who can work towards solving this challenge are already out there.
By submitting your personal information, you agree that TechTarget and its partners may contact you regarding relevant content, products and special offers.
You also agree that your personal information may be transferred and processed in the United States, and that you have read and agree to the Terms of Use and the Privacy Policy.
But at what one NHS official said was the "59th minute of the eleventh hour" Fujitsu informed Nicholson that it was withdrawing from the negotiations. The NHS responded decisively, by terminating Fujitsu's contract.
The NHS had threatened to terminate the contract even during the "contract re-set" negotiations. Nevertheless, the way Fujitsu withdrew has taken many in the NHS by surprise.
"Up until the end of last week the signs were that agreement had been reached. Things were looking positive on a reasonable implementation timetable," said one executive involved in the NPfIT.
Why did a proposed deal collapse? NHS officials believe that Fujitsu's board in Japan decided to intervene. The board was concerned that Fujitsu's potential losses on its NPfIT work, as one of three local service providers to the NHS, could be much greater than its directors had thought at first.
Fujitsu is the monopoly supplier of Cerner's Millennium care records service, which is mandated to be the main hospital system for the south of England.
Now that Fujitsu is withdrawing as the local service provider for the South, and trust boards do not have the freedom to buy elsewhere, uncertainty has been piled onto uncertainty for the boards of NHS trusts. Some in the NHS say this is a characteristic of the NPfIT as a whole.
"We are into a period of turmoil. There are the exit arrangements with Fujitsu to manage, especially for the early-adopter sites, and there will probably be some months of discussion about what we should do. There is no uniformity of view within the NHS on that," one official said.
There are several options. One is for the government to give trusts the freedom to buy care record systems from other suppliers, under Connecting for Health's Additional Supply Capability and Capacity (ASCC) framework, which came into force recently.
This would give trust boards in the south of England the option of buying the Millennium system directly from Cerner - rather than from Fujitsu as the middle-man. Or they could choose to buy from another accredited Care Records Service supplier.
Most IT executives in the NHS are expected to favour this option, particularly if the software is funded centrally irrespective of what ASCC choice the trust makes.
Other options include passing Fujitsu's work to one or both of the two other local service providers, CSC and BT. But both of these suppliers have had serious difficulty delivering a national strategic system to the NHS.
Some NHS staff believe that Cerner can be made to work across the UK. It is a successful product in the US and elsewhere. But others are concerned that Millennium is a client-sever system rooted in the 1990s. NHS staff need extensive training to use it. It is not as intuitive as, say, an online banking system.
There are also wider concerns among some officials that the NPfIT itself is dated in concept as well as practice. Since the programme was announced, trusts have become subject to competition for patients from private companies and even within the health service, particularly foundation trusts. They want IT to give them a competitive edge, which makes them less inclined to favour systems chosen for them centrally.
It will be of little comfort to the Department of Health and ministers that Computer Weekly warned them in 2002 that the NPfIT was too ambitious to be achievable, and that the programme incorporated some of the biggest mistakes of the past. For this warning ministers and some parts of the media branded us doom-mongers.
We still hope our critics will prove us wrong. But it is six years since the NPfIT was announced. How much longer do they need?
Read more about the NPfIT on Tony Collins' IT projects blog >>