Francis Maude, Cabinet Office minister, said the government's new IT strategy is unlikely to entirely prevent any IT failures happening again, but will reduce the risk of public sector IT contract cancellations.
"No one is remotely saying this will never happen again. This is big, difficult territory. We need to be much better at managing risk and having much better project management," Francis Maude said in a Public Administration Committee.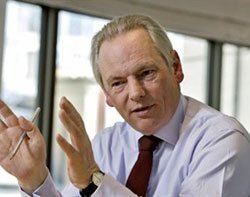 Ian Watmore, Chief Operating Officer at the Efficiency and Reform Group, agreed, adding that the decision to place a moratorium on projects will help to control future processes.
But Ian Watmore said technical problems were rarely to blame for IT failures. "It's nearly always a project management problem or that the policy was too ambitious. The reason IT is where this is found out is because that's where all the codification finally comes to fruition, and machines are pretty bad at ambiguity," he said.
He says the vast majority of spend is on bespoke systems for government. "The expense goes on areas such as defence, social security, and pensions. Parliament has very complex legalities, which have to be encoded into systems. This is massively more complicated than anything you get in the private sector."
Maude refuses to say whether the previous government's G-Cloud project has been kicked into the long grass entirely. "A lot of people mean different things with the G-Cloud," he said. But the government will consolidate and reduce its datacentre estate and create an app store, he said.
In its IT strategy, the government re-iterated its commitment to increase SME procurement. Watmore said the three areas which will see an increase in SME take-up will be software purchases, commodities and IT services contracts. "The combination of these three things should see SMEs expand their place in the market place," he added.
Maude outlined outsourcing as another area which needs to be addressed. "When the government outsources there's an assumption it no longer needs to worry about it, or departments will retain a massive in-house capability to monitor what's being done by providers. One provider said they had 2,500 people working on an outsourced project, which was overseen by 4,000," he said. Watmore agreed services tended to be either abdicated or overseen by an army of people in-house. "We need something in between," he said.
But the cultural attitude toward IT needs be changed, added Watmore. "IT tends to be an afterthought or worse, people think they need to have a piece of technology to make their project sound sexy. So technology is not thought about or it is thought about in the wrong way."
Email Alerts
Register now to receive ComputerWeekly.com IT-related news, guides and more, delivered to your inbox.
By submitting your personal information, you agree to receive emails regarding relevant products and special offers from TechTarget and its partners. You also agree that your personal information may be transferred and processed in the United States, and that you have read and agree to the
Terms of Use
and the
Privacy Policy
.