The demand for finance sector IT staff has fallen 6% in the fourth quarter of 2010, despite industry recruitment levels increasing 21% compared to a year ago.
According to a Computer Weekly report from Salary Services Limited (SSL) and JobsAdWatch.co.uk, the finance sector is the only private sector to see recruitment levels fall in the fourth quarter compared to the previous quarter. All other sectors experienced an increase in demand.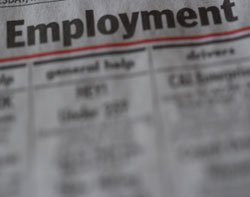 The number of jobs advertised for software houses and consultancies increased by 8%.
George Molyneaux, research director at SSL, said, "This growth may well be at the expense of jobs in finance as they transfer operations and development to outsourcing companies."
---
Sign-up to Computer Weekly to download the full Computer Weekly JobsAdWatch report on IT pay and recruitment in the finance sector.
---
"Whether the personnel affected transfer from finance to software houses is not clear. It is more likely that the outsourcing companies will be using a combination of onshore/offshore recruitment with staff being imported from outside the EU," said Molyneaux.
"At least the situation isn't as bad as the public sector, which has seen recruitment fall by 30% during the last quarter," he added.
The software skills most in demand in the finance sector are SQL, C, C#. Java and .Net. "Demand for contractors with Agile expertise is actually up on the previous quarter," said Molyneaux. The table below shows the programming vacancies financial institutes advertised for during the fourth quarter of 2010. Click on a skill to see more information on how demand has changed since 2007.
Salaries for financial sector project managers were down 11% on figures a year ago.
TABLE: Advertised salary/rates for selected job functions in the financial sector Source: Salary Services Limited / JobAdsWatch.co.uk
Job title
Salary Q410
Salary Q310
Salary Q409
Quarter % change
Annual % change
PERMANENT
Project manager
58,440
61,337
65,471
-5
-11
System auditor
47,195
48,821
45,685
-3
3
Developer
50,055
51,759
54,596
-3
-8
PC support analyst
29,255
28,244
28,030
4
4
System administrator
44,437
45,414
44,290
-2
CONTRACT
Project manager
60
61
61
-1
-1
System auditor
47
44
46
6
2
Developer
58
58
59
-1
PC support analyst
25
24
24
3
4
System administrator
48
44
43
8
11
Email Alerts
Register now to receive ComputerWeekly.com IT-related news, guides and more, delivered to your inbox.
By submitting your personal information, you agree to receive emails regarding relevant products and special offers from TechTarget and its partners. You also agree that your personal information may be transferred and processed in the United States, and that you have read and agree to the
Terms of Use
and the
Privacy Policy
.