The IT Blog Awards 2010 winners
Who's the 2010 blogger of the year? What is the best gadget blog on the web? All these questions will be answered.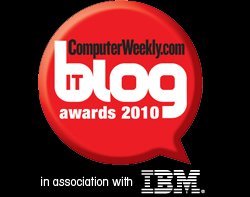 This Article Covers
RELATED TOPICS
The IT Blog Awards 2010 ceremony, in association with IBM, was held at The Delfina in London.
Continue Reading This Article
Enjoy this article as well as all of our content, including E-Guides, news, tips and more.
By submitting your personal information, you agree to receive emails regarding relevant products and special offers from TechTarget and its partners. You also agree that your personal information may be transferred and processed in the United States, and that you have read and agree to the Terms of Use and the Privacy Policy.

Below you will find a list of the winners and runners up as well as a slideshow.
Videos and photos will go up shortly.
CIO/IT director
Winner: Capgemini – CTO Blog
Runner up: Atos Origin
IT consultant and analyst
Winner: The IT Skeptic
Runner up: Alim Ozcan Blog, ITP Report
Individual IT professional male
Winner: Mark Wilson
Runner up: Steve Clayton, Geek in disguise
Individual IT professional female
Winner: Basheera Khan
Runner up: A girl's guide to Project Management
Company/corporate: large enterprise
Winner: Technology blog - Capgemini
Runner up: TechCrunch
Company/corporate: SMEs
Winner: IT Donut blog
Runner up: Small Business Blog from Microsoft

Project management
Winner: A girl's guide to Project management
Runner up: The Critical Path
Gadgets
Winner: Girls n Gadgets
Runner up: Gadgets and gizmos

IT security
Winner: Graham Cluley's Blog Sophos
Runner up: Countermeasures
Software development
Winner: Windows 7 News
Runner up: Naked Computers

Best International
Winner: TechCrunch
Runner up: Gizmodo
IT Twitter user of the year
Winner: @gcluley
Runners up: @hermioneway
IT Twitter user of the year
Winner: @gcluley
Runners up: @hermioneway

Blogger of the year 2010

Winner: A girl's guide to Project management