Malware growth has reached its highest levels, with an average of 60,000 new pieces of malware identified every day, according to the latest threat report from security firm McAfee.
Cyber criminals are becoming more savvy and attacks increasingly more severe, said the threat report for the third quarter of 2010.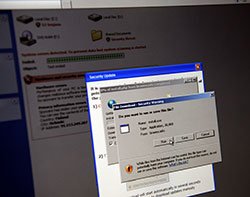 The Zeus botnet is identified as one the most sophisticated pieces of malware to plague users, with US small businesses losing $70m to Ukrainian cybercriminals.
Most recently, cybercriminals unleashed the Zeus botnet aimed at mobile devices, designed to intercept SMS messages to validate transactions. As a result, the report said criminals can perform the full bank operation, stealing funds from unsuspecting victims.
"Cybercriminals are doing their homework, and are aware of what's popular, and what's insecure," said Mike Gallagher, senior vice-president and chief technology officer of Global Threat Intelligence for McAfee.
Criminals are attacking mobile devices and social networking sites, so education about user activity online, as well as incorporating the proper security technologies, are of utmost importance, he said.
McAfee reports that botnet activity remained strong in Q3. The most popular, Cutwail, was used for distributed denial-of-service attacks on over 300 websites and accounted for more than 50% of traffic in every country.
Although attacks on social media, such as Koobface and AutoRun malware, seem to have levelled off, the attacks have not ended cybercriminal manipulation, the report said.
Twitter, for example, provides an attacker with information on the most popular terms and trends being discussed, and shortened URL services hide website destinations, disguising malicious links targeted at users searching for these popular terms. In Q3, 60% of the top Google search terms return malicious sites within the first 100 results, the report said.
The discovery of infections by the highly sophisticated Stuxnet worm in July marked the beginning of a new era, according to the report. McAfee said India suffers from the greatest concentration of attacks.
Remove Cutwail from your computer >>
Email Alerts
Register now to receive ComputerWeekly.com IT-related news, guides and more, delivered to your inbox.
By submitting your personal information, you agree to receive emails regarding relevant products and special offers from TechTarget and its partners. You also agree that your personal information may be transferred and processed in the United States, and that you have read and agree to the
Terms of Use
and the
Privacy Policy
.