Vtesse Networks plans to provide reliable high speed broadband to a million homes and offices that now exist in broadband 'not-spots' or slow-spots, provided the right market conditions exist, CEO Aidan Paul says.
Paul was speaking at a conference to pitch Cumbria's case to be the location for one of the pilot schemes that the government's action unit, Broadband Delivery UK, plans to kick off next year.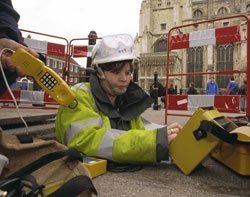 Paul's plan would provide about a quarter of the four million homes that are unlikely to receive a minimum 2Mbps broadband connection once BT and Virgin Media have completed their published broadband roll-out plans. These plans, which largely overlap, will cover about two-thirds of the UK's 27 million homes and offices. Most of them are in urban areas.
Paul said Vtesse had a number of pilots already on the go that would shortly pass some 2,000 homes. "We're after a million homes," he told Computer Weekly.
He called for the regulations to be changed to give smaller operators like Vtesse fairer access to BT infrastructure and prices.
In a video interview Paul told Computer Weekly he hoped the conference would bring "positive progress" on infrastructure sharing. "That's a very important issue from the point of view of both connectivity and backhaul (connection to the national trunk networks)," he said.
"The other issues are getting fair and equitable access to pricing for components of fibre to the (street) cabinet; new entrants don't buy components at the same price and terms and conditions as BT uses itself. That is an important issue to ensure that there is a level playfield," he said.
Bill Murphy, managing director of BT's Next Generation Access programme, said Openreach, the regulated BT division that supplies network infrastructure, was the most regulated company in the UK. It supplied infrastructure at the same price to everyone, including other BT divisions, he said.
However, Vtesse has complained to the European courts that it was denied equivalent access to Openreach prices in a tender for networks in Cornwall. Murphy said the tender, which BT won, was open and fair.
Email Alerts
Register now to receive ComputerWeekly.com IT-related news, guides and more, delivered to your inbox.
By submitting your personal information, you agree to receive emails regarding relevant products and special offers from TechTarget and its partners. You also agree that your personal information may be transferred and processed in the United States, and that you have read and agree to the
Terms of Use
and the
Privacy Policy
.