Construction blacklist ringmaster fined
Construction companies which paid hundreds of thousands of pounds to a secret...
Construction companies which paid hundreds of thousands of pounds to a secret blacklisting operation escaped prosecution today.
A judge fined Ian Kerr, the man responsible for co-ordinating the operation, £5,000 but said while he was not the only person to blame he was "in the firing line".

Download this free guide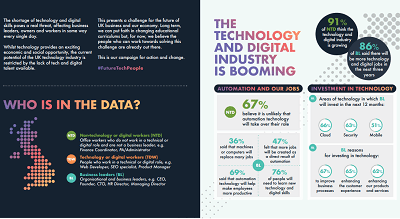 Infographic: Future-proofing UK technology
The current potential of the UK technology industry is restricted by the lack of tech and digital talent available. Read through this challenge for the future of UK business and our economy.
By submitting your personal information, you agree that TechTarget and its partners may contact you regarding relevant content, products and special offers.
You also agree that your personal information may be transferred and processed in the United States, and that you have read and agree to the Terms of Use and the Privacy Policy.
The Information Commissioner's Office, which brought the case, said it was looking at issuing information notices against 17 construction companies which financed the blacklisting warning them as to their future behaviour.
There were angry scenes as Kerr left the building hiding in the back of car while some of those who had been blacklisted shouted abuse and banged on the vehicle. Many said they were disappointed both at the small fine and that the construction companies had not been prosecuted.
Knutsford Crown Court heard that 66-year-old Kerr ran The Consulting Association, based in Driotwich. It kept details on the activities of more than 3,200 workers and stored on a card index system built up over 30 years. The database was used by companies to vet potential employees. The association was funded over the years by more than 40 construction firms to the tune of nearly £500,000 between 2006 and 2009 alone. Kerr was said to have earned an average annual salary of £34,000.
Kerr, who had pleaded guilty at an earlier hearing, was fined £5,000 with £1,187 in costs after judge Stephen Clarke heard he had few assets and only a small pension.
David Smith, deputy information commissioner, said: "Ian Kerr colluded with construction firms for many years flouting the Data Protection Act and ignoring people's privacy rights."
Manchester electrician Steve Acheson, one of those blacklisted, said: "Those high street names who have brought so much misery should have been in the dock as well."