Patryk Kosmider - Fotolia
Focus on innovation and AI in government Industrial Strategy
The government's Industrial Strategy whitepaper aims to make the UK the "the most innovative nation by 2030" and commits to investing further £275m in Industrial Strategy Challenge Fund
The government's Industrial Strategy highlights the need for digital technology, with a focus on investment in artificial intelligence (AI), innovation, digital skills and infrastructure.
Investment includes the previously announced raise in research and development (R&D) funding to 2.4% by 2027, as well as a second wave of the already established Industrial Strategy Challenge Fund (ISCF) with a further £725m.
The fund will be spent on a range of programmes, including up to £33m on immersive technologies such as "virtual, augmented and mixed reality, which are changing how we experience the world around us – from entertainment and art to shops and classrooms", and up to £210m for an "early diagnosis and precision medicine programme".
"The challenge is to combine the wealth of data created by UK researchers with real-world evidence from our health service. That will allow industry to create new products and services that will diagnose diseases earlier and help clinicians choose the best treatment for individual patients," the strategy said.
As already announced in the Autumn Budget on 22 November, the government will also invest £10m in a pioneer fund to help regulators to "develop innovative approaches aimed at getting new products and services to the market", as well as significant investment in increasing the number of computer science teachers and digital skills.
This includes an additional £406m in "maths, digital and technical education" to help address the shortage of science, technology, engineering and maths (Stem) skills.
"By 2030, we want the UK to be the most innovative country in the world: a home to the most dynamic businesses at the cutting edge of new technologies and processes," the strategy whitepaper said.
Importance of AI
The government sees AI as a huge driver in improving the country's productivity, and the Alan Turring Institute will become a new national research centre for AI to foster and retain research talent.
"A major source of productivity improvements comes from making the most of AI and machine learning across the economy. We are working with industry to establish an industry-led AI Council that can take a leadership role across sectors. The AI Council will be supported by a new government office for AI," the strategy added.
"The office, working with the AI Council, will lead work to increase awareness of the advantages of advanced data analytic technologies and promote greater diversity in the AI workforce."
Last week's Budget book said AI could benefit households across the UK by up to £2,300 per year by 2030, and increase GDP by 10%.
Sector deals
The whitepaper focused on five key points: ideas, people, infrastructure, business environment and places. It included the launch of what the government calls "sector deals", which are partnerships between government and industry with the aim of increasing sector productivity.
"The first sector deals are in life sciences, construction, AI and the automotive sector," the strategy said, but it provided little detail on what this actually entails.
Prime minister Theresa May said the strategy will "shape a stronger and fairer economy for decades to come".
"It will help create the conditions where successful businesses can emerge and grow, and support these businesses in seizing the big opportunities of our time, such as AI and big data, while also making sure our young people have the skills to take on the high-paid, high-skilled jobs this creates," she said.
As announced by chancellor Philip Hammond in the Autumn Budget, the government is also focusing heavily on "clean growth", including £400m in electric car charge points, plus £40m in charging technology R&D.
The government will also increase the National Productivity and Investment Fund to £31bn to support investment in transport, housing and digital infrastructure.
Commenting on the strategy whitepaper, techUK deputy CEO Antony Walker said it has "digital technology at its very core".
"The government is right to stress that the success of every industrial sector and every business in the UK will depend on their approach to digital innovation. Digital tech is the golden thread that runs throughout the whitepaper, including every sector deal," he said.
"TechUK strongly welcomes the new sector deal for AI. The UK is an acknowledged world leader in AI, but it needs to work hard to stay at the forefront of a technology that will shape the future for everyone.
"There is still plenty to do, including supporting those millions of small businesses not yet taking advantage of basic tech. Companies can't take advantage of AI until they have built their basic digital foundations – we would like to see a digital readiness index to measure progress in building these foundations."
Read more about government and technology
Content Continues Below

Download this free guide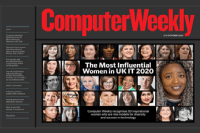 The Most Influential Women in UK Technology 2020
In this week's Computer Weekly, we announce our annual list of the Most Influential Women in UK Technology, and talk to this year's winner, Stemettes CEO and diversity campaigner Anne-Marie Imafidon. Meet our five Rising Stars and the latest entrants to our women in tech Hall of Fame. Read the issue now.