igor - Fotolia
Interview: Charles Cameron, director of technology, Centrica
Centrica is in the midst of developing a fully-fledged software business. Its group director of technology and engineering talks to Computer Weekly about the strategy
Centrica recently strengthened its digital hand with a £100m technology investment fund, unveiled in February by group CEO Iain Conn.
The fund will be managed by its innovation business, Centrica Innovation, which also run Ignite, a social enterprise that provides an investment fund focused on energy.

Download this free guide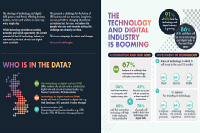 Infographic: How to future-proof UK technology
There is no doubt that the technology industry is booming right now, bringing with it exciting social and economic opportunities. However, there is a real fear that the UK industry may be stunted due to the lack of talent available. This e-guide helps to break down the future fears and expectations of dozens of business leaders and tech workers.
A key part of Centrica's future is about developing and delivering new technology-based products to residential and business customers.
To support this, Centrica Innovation recently acquired data discovery startup Rokitt Astra. Through the deal, the Rokitt Astra technology will become part of Centrica subsidiary Io-Tahoe.
Avoiding a data swamp
Io-Tahoe was created by Centrica Innovation to address British Gas's dilemma of linking multiple diverse legacy systems to provide analytics on its 14 million customer accounts.
It began as a way to solve Centrica's own data management problem, but Charles Cameron, group director of technology and engineering at Centrica, says the company has more ambitious plans for its analytics subsidiary.
Cameron recently joined Centrica from BP's downstream business, where he was head of technology and research. He now heads up Centrica Innovation, a role that involves overseeing Centrica's approach to technology development and engineering – including assessing technology pipelines, product development and partnerships.
Commenting on the rationale behind Io-Tahoe, Cameron says: "In the past, our systems were set up to answer certain questions. If we wanted to answer a different question, it would usually require modification of those systems."
Such modifications not only cost the company millions of pounds, but they often took several months to implement, by which time the business may need to ask a slightly different question. According to Cameron, this led to an endless loop of costly modifications.
Building data connections
Traditionally, businesses stored their data in structured data management systems, which were designed so that certain key pieces of information could be retrieved efficiently.
Cameron argues that these systems are now proving to be a hindrance. "Data storage is so cheap. Now the problem is how to connect to all the data to answer questions quickly," he says.
This is the problem Io-Tahoe was established to tackle – namely the 2PB (petabytes) of customer data in British Gas's legacy systems. Many companies face the same problem.
Put simply, Io-Tahoe moves data out of legacy systems and into a data lake, and then takes control of the data.
In a LinkedIn post in December 2016, Cameron wrote: "There are a few companies that have tried to create data lakes from all of their systems to enable high-end analytics tools to improve their customer services and offers, but the ability to do this has not been readily available."
Explaining the problem with data lakes, Cameron says: "You pour data in the lake – it is long-term storage – but connecting to a lake is not easy. How do we turn it into something useful?"
Io-Tahoe has pioneered a way to make data lakes useful, says Cameron.
"We attack things from a different angle. We don't take the classic data management approach"

Charles Cameron, Centrica
So why has the wider tech industry so far failed to solve this problem effectively? "We haven't seen anything in industry yet," says Cameron. "Many companies have worked on solutions from the past. They have focused on what they had, rather than cannibalise their business. We attack things from a different angle. We don't take the classic data management approach."
In 2015, he says, Centrica had developed a functioning data lake that met the criteria of actually being "useful". By mid-2016, Centrica was looking to take the technology to its overseas divisions and a suitable candidate was identified at Centrica's North American Direct Energy subsidiary, which took just six weeks to deploy the technology in its business solutions division.
By the end of 2016, Centrica established its Io-Tahoe subsidiary to focus on big data management.
Io-Tahoe's technology is now finding its way into other parts of Centrica. "We are finding more and more uses, and are now using it for exploration and production," says Cameron. One example is for the safe operation of facilities. "It is not easy to [assess] plant safety," he says.
Cameron believes Io-Tahoe also has many uses beyond the confines of Centrica's own business. "Take a company over 10 years old, especially one not born in the cloud. It will have a standard data warehouse where the data is locked in a safe. Then it acquires other companies," says Cameron.
These companies may well have their own large database systems, and so the acquiring company now has the challenge of connecting systems that were not designed to talk to one another. Cameron says this is exactly the problem Io-Tahoe has been engineered to solve. He says the Io-Tahoe technology enables a business to connect all its data sources together.
Speaking about the benefits within Centrica, he says: "We were able to drive down the number of structures used to store data and the number of third-party systems needed to make databases operational." This simplification led to lower electricity consumption by its IT equipment and an overall reduction in costs.
Growing the business
As far as Cameron is aware, Io-Tahoe has some unique technology. "We had the only functioning data lake in the FTSE. Others created a data swamp," he says. "No one has been able to do what we've done. We had an 18- to 24-month lead on industry. We are still waiting for suppliers to catch up."
When Io-Tahoe began the process to file an intellectual property patent to protect its technology and started investigating how the product was differentiated, the company discovered a similar technology. "We saw Rokitt Astra had filed for a patent licence in an area that is very similar. It was working on data warehouse management, and we wanted to combine our expertise."
Centrica Innovations acquired Rokitt Astra in May 2017, in a move aimed to bolster the Io-Tahoe data lake technology with machine learning-powered data discovery technology from Rokitt.
"Centrica Innovations will benefit from the substantial expertise in the area of data discovery offered by Rokitt's employees across the US, India and Ukraine, where operations will continue," Cameron said at the time.
He regards the acquisition as a big step in taking Io-Tahoe forward as a commercial organisation. "Our objective was to use [Rokitt's] technology internally, but by acquiring Rokitt Astra, we have also acquired a sales and marketing talent," says Cameron.
The opportunity is now there to grow Io-Tahoe's go-to-market strategy. "We are taking Rokitt Astra to market and we are doing proof-of-concept implementations with four customers. I expect be will be ready for a roll-out by July," he says.
Speaking about future expansion, Cameron says: "We are only a small company, with 50 people at Io-Tahoe, so we only have the capacity to go into two or three verticals. We are in the energy sector, but we are also looking at banking due to the Rokitt Astra acquisition, which was already in banking. Telco is the next one."
He expects the company will form partnerships to expand further, with the possibility of 12 verticals in 18 months' time. "Logically, we will partner with very large companies to take us into multiple verticals simultaneously," he says.
The business is software
In the past, IT's role was to serve the business. What Io-Tahoe shows is that in doing so, IT at Centrica has created a product that solves a genuine business problem, bringing together silos of legacy data in a way the industry has yet to address effectively.
Read more about big data analytics at Centrica
Read more on CW500 and IT leadership skills