Mark Carrel - Fotolia
Do you have what it takes to be a great CIO?
CIOs have the potential to become business leaders – it's a matter of nurturing the right skills, talent and relationships, according to Deloitte
What sort of personality do you need to be a great chief information officer?
You might think being competitive, outgoing, quick to adapt to technology and having strong people skills will turn you into a great CIO. But you would be wrong.
Deloitte has interviewed and surveyed 1,200 CIOs around the world, analysing their personality types, working style and the way they relate with people.
It shows that when it comes to being a great CIO, it's not the traits that CIOs start out with that make a difference.
How their role is developed is far more important, said Mark Lillie, global CIO programme leader at Deloitte.
"The data shows that, irrespective of geography, industry, size of organisation and what type of CIO you are, there is no significant difference around personal style and working style. Those do not drive your success," he said.
In other words, any competent CIO has the potential to become an influential business leader if they are smart about building relationships with their peers, hire the right team and build the right technical capabilities.
The digital opportunity
With digital technology now a board-level priority for nearly every organisation, CIOs of whatever type have an opportunity to play a leadership role that can change the direction of a company.
Look at what Airbnb has done for accommodation, or what Uber has done to the way people order taxis, said Lillie. "People talk about Uber everything. It's not just a company, it's a concept."
It is equally clear that if CIOs do not take leadership of digital technology, someone else in the organisation will. And it is not only the trend for companies to appoint chief digital officers that CIOs need to worry about.
Chief marketing officers are using web and mobile technologies to reach their customers in new ways. Chief operating officers are eyeing the internet of things (IoT) to improve their supply chains, and chief financial officers are seeing the potential of data analytics technology.
What makes CIOs different to the rest of the C-suite?
CIOs, like the majority of people in the C-suite, are outgoing, averse to detail, spontaneous, risk tolerant and decisive.
However, CIOs have greater tolerance of ambiguity, are more competitive and have a better ability to think visually than other business leaders.
At the same time, they tend to be less relationship-orientated, less personable, less contemplative, and less deliberate.
Source: Deloitte CIO Survey 2016 to 2017
No wonder, then, that some IT suppliers are now bypassing the IT department and talking directly with chief executives.
"The more important constituency are CEOs," rather than CIOs," said Aneel Bhusri, CEO of cloud human resources (HR) and financial services company Workday.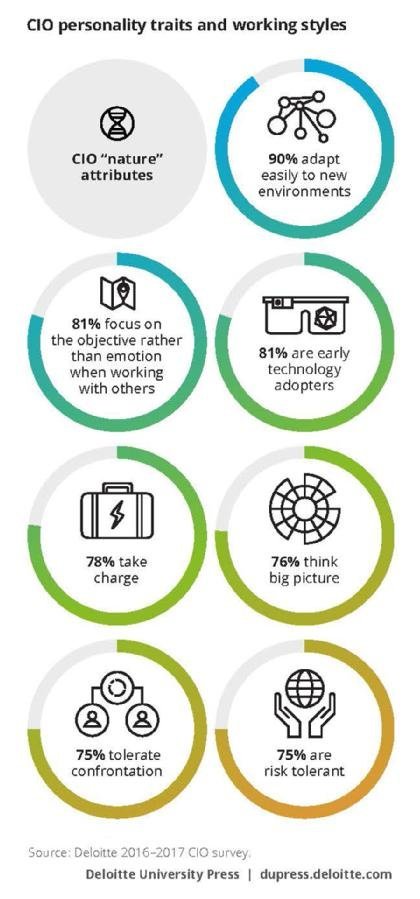 The best response for CIOs is not to crack down on deployment of IT outside the organisation – known as shadow IT – but to support it," said Lillie. "Then, at least, the IT department will be aware of the technology other parts of the business are deploying. "That way, you avoid the risks around architecture mayhem."
Digital icebergs
Much of what makes up digital technology lies beneath the surface, out of sight of the rest of the C-suite, and firmly within the realm of the CIO. This is a concept Deloitte calls "the digital iceberg".
More than anyone in the company, the CIO has a complete picture of the potential of digital technology, the IT systems that will make it possible and the changes companies need to make to turn it to their advantage.
Digital technology is rooted in more than edgy digital solutions, said Deloitte. It requires modernising legacy IT systems, simplifying and consolidating IT infrastructure, and investments in cyber security, data and analytics, and emerging technologies.
"If you are a CIO, you have a much broader way of looking at the world, which encompasses analytics, the internet of things, augmented reality, virtual reality, robotics, cloud and cyber security," said Lillie.
CIOs can use digital technology internally, improving collaboration and the efficiency of organisations. Most importantly, it can help companies interact with their customers.
"CIOs should absolutely focus on customer experience and get much closer to marketing," he said. "You need to embrace that from a customer insight perspective, customer intimacy and how you serve your customers in a multichannel way."
The CIO trinity
But CIOs need to be adaptable too. Deloitte has identified three roles that CIOs will need to adopt during their careers.
Trusted operators spend more of their time developing reliable, cost-effective infrastructure. Change instigators take the lead on business transformation and change initiatives. Business co-creators focus on using technology to drive business strategy, and can make some dramatic business changes.
Neither role is more important than the other. All three types of CIO require the same core skills to be able to run and maintain technology, understand its capabilities and act as a change agent for the business.
Which CIO you are is a matter of which skills you emphasise and how you spend your time. CIOs will need to move seamlessly from one role to another as the needs of their organisation change.
Lillie advises CIOs of whatever type to work with their CEO, to develop new markets, new products and new ways of doing things.
Customers are the top priority for CIOs
The move towards digital technology is reflected in the priorities for CIOs over the next 12 months.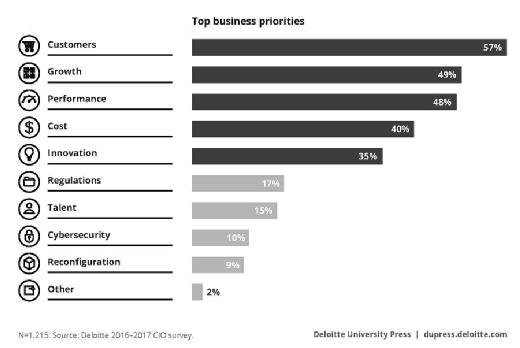 Over half of CIOs listed their company's customers as their top strategy priority, which is up by 12% from 2015. That is followed by growth, performance, reducing costs and boosting innovation.
"It is interesting to see customers, growth and innovation on the top line, rather than cost. That says quite clearly that when the business is focused on growth and performance, IT needs to be focused on that agenda," said Lillie.
Over half of CIOs expect their budgets to rise over the next 12 months, as the drive to digital continues.
They are planning to hire staff with the skills to provide their customers with digital services. They include people with skills in data analytics, who, in the past, may have been more at home in the marketing department than the IT department.
"Technology is so fundamental to all aspects of all business, organisations realise they have to invest in it," says Lillie.
The CIO skills gap and how to bridge it
Nevertheless, CIOs recognise that there is a gap between the competencies they have and the competencies they need in order to make a difference to their organisations.
They identified their biggest deficits in customer and digital experience and analytics. Many felt they were underinvesting in emerging technologies, and nearly a third believed their IT departments were below average in digital skills.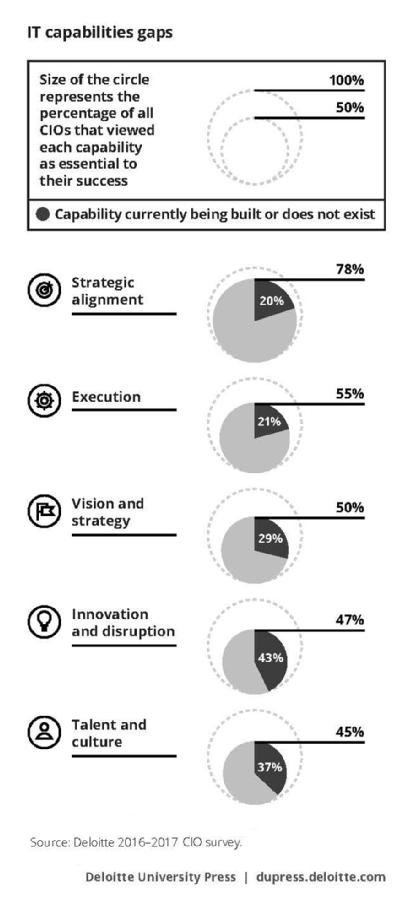 Most importantly, CIOs recognised the need to build stronger personal relationships with other members of the management team.
"The leading CIOs are the ones who understand this. They invest in relationships across the business," said Lillie.
It means talking to the other executives about the topics that interest them, rather than the topics that interest the CIO. That way, if the supplier goes directly to the CEO, the CEO will be sure to get the CIO in the meeting.
CIOs who succeed in winning the confidence of their co-executives can help their organisations drive innovation by investing in digital hubs, or technology incubators that can support startup companies. They can also work collaboratively with networks of innovative technology suppliers to generate new ideas.
Nevertheless, it is important to avoid glossing over the fact that many CIOs will need to reduce costs and make the business more efficient as top priorities.
If the company does not have stable infrastructure, CIOs need to put that in place before they can start innovating with digital technology.
Keeping up with technology
Technology is changing so quickly that traditional IT departments simply cannot keep up. One answer is two-speed IT – one IT team to deal with agile, urgent projects, and a second team to deal with the longer, more complex and slower IT projects.
Another is adaptive IT, where teams of IT professionals adapt their speed of working to the needs of the project, deciding whether speed or reliability is more important.
"There is a strong desire for business to move faster and be more agile, and a need and opportunity for CIOs to do things faster," said Lillie.
The research shows the aspiration for many CIOs is to move from being a trusted operator to a business co-creator and, on the way, to leave behind a lasting legacy for their organisations.
"You can develop your broader IT capabilities through having talent and building IT capabilities around you, and you can develop your leadership capabilities over time," he said.
New industries are emerging where digital technology is at the forefront, and that will accelerate the changing role of the CIO. IT leaders need to surround themselves with people who can work quickly, in an agile way, to help companies disrupt their own business models.
"You can control your destiny here," said Lillie. "You are not born with CIO personality traits."
Read more on CW500 and IT leadership skills