IT spending priorities survey shows UK European data management lead
IT professionals in UK organisations are more intent on spending on data management in 2014 than their counterparts in Germany and France
IT professionals in UK companies and organisations are more intent on spending on data management in 2014 than their counterparts in Germany and France.
The TechTarget/Computer Weekly IT Spending Priorities 2014 report uncovers a buoyant buying population for business intelligence, data warehousing, and big data. The research was carried out in November and December 2013.
The global survey's European sample slice was 1,319 IT professionals, of whom 299 were UK. Some 13% of the overall European group specialised in business intelligence or data warehousing, and 85% described themselves as working in corporate IT.
According to the survey, 17% of European organisations will implement big data initiatives in 2014 (see Chart 1), and the figure rises to 23% for the UK. The corresponding figures for France and Germany are 16% and 15% respectively.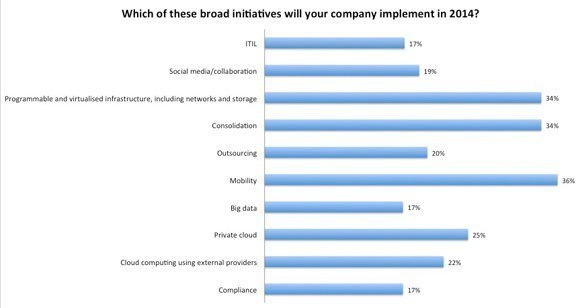 Chart 1
Last year's corresponding survey found 19% of respondents intending to mount big data programmes. TechTarget's specialist Analytics and data warehousing reader survey, conducted in the third quarter of 2013, found that the majority of big data management and analytics programmes were still at the consideration and planning stages.
More on IT spending plans
Reader survey shows big data projects heading toward mainstream
Revealed: IT spending plans in 2013
Of 129 UK and European respondents, 11% had big data analytics programmes in place at that time, and 26% were planning to add in the year ahead. That would suggest a rough doubling of UK active engagement in big data programmes in the final quarter of 2013.
The UK also emerges as somewhat advanced in relation to content management and data governance (see Chart 2). In Europe as a whole, 18% of respondents plan to deploy content management systems, while the figure rises to 28% in the UK. Similarly, 13% will deploy data governance and data quality programmes, compared with 22% in the UK.
Britain lags in using corporate performance management (CPM) software, however, with only 9% of UK respondents investing in CPM, compared with 15% in Europe overall.
Despite all the hype associated with advanced database management systems, such as in-memory, columnar or NoSQL, only 7% of respondents will deploy those, though the figure does rise to 10% among the UK cohort.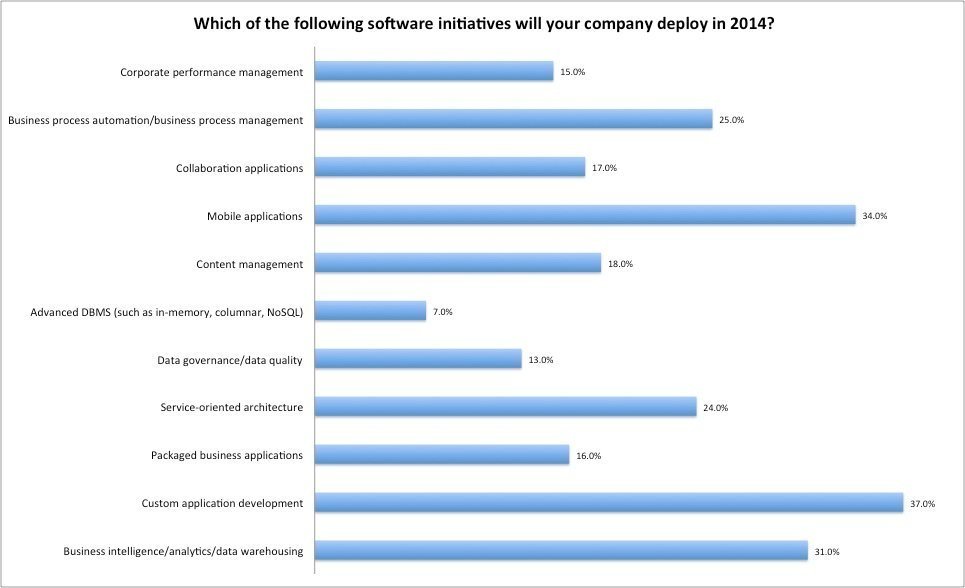 Chart 2
Read more on Master data management (MDM) and integration