Businesses have 'once in a decade opportunity' to launch innovative apps
Businesses have a short window to distance themselves from competitors by introducing innovative phone apps, says analyst group Gartner
Businesses have a unique opportunity steal a march on competitors by introducing genuinely innovative mobile phone applications, analyst group Gartner claimed today.
But if they are to succeed in exploiting the next generation of mobile phone technology, they will need to think about the opportunities for mobile apps in a more strategic way.
In an interview with Computer Weekly, Gartner analyst and vice-president Nick Jones said that businesses have a once-in-a-decade chance to make an impact with innovative mobile phone applications.
"Leaders are beginning to pull ahead, but there is still an opportunity to innovate and do something that other companies are not doing. In three or four years, everyone will be doing the clever stuff," he said.
Gartner mobile phone strategy checklist
Poor design
To date, most businesses have been taking a tactical approach to mobile technology, rather than looking at how their mobile strategy fits into the company's overall vision.
As a result, said Jones, companies have produced some poorly designed applications that have alienated customers rather than helped them.
"With a lot of first-generation apps, if you grabbed someone from the company and asked what the business case was, and how it was generating more revenue, they probably could not answer," he said.
For example, one supermarket produced an app that generated a QR barcode to give customers money off their purchases, but failed to ensure that stores had the equipment at the tills to read the codes.
In another case, a train company produced a mobile phone app to sell tickets, but alienated customers who discovered they had to use the full website if they wanted to take advantage of money-saving promotions.
"A lot of apps are getting bad reviews from customers because they don't work or they don't do what the customer wants them to do," he said.
Virtual stores
However, some businesses are pulling ahead of the pack with genuinely innovative applications that have a real business case.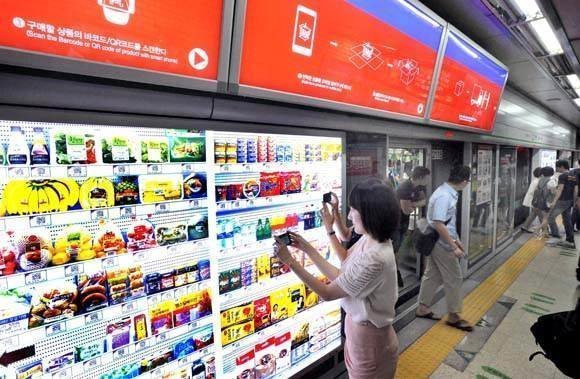 For example, Tesco has created a virtual store in an underground station in South Korea (pictured left). It allows customers to use their mobile phones to scan images of products projected on to virtual shelves, and to have them delivered to their home.
In another case, a motor insurance company realised that a large proportion of its claims were from accidents in car parks. It produced a game application in which players score points by parking their cars without colliding in a car park.
And companies such as Nike are producing apps that link to sensors in Nike training shoes, to measure running speed or send alerts when trainers need replacing.
"Over the past year there has been a growth in the number of people taking a strategic perspective. There was a lot of stuff that just happened in the past, but now people are asking, 'What is a mobile strategy, and how should I go about it?'," he said.
Innovation
The most important ingredient in developing a successful app is innovation, according to Jones. That means going beyond the power of the web and using a mobile device for something that has not been done before.
Download more in-depth articles from Gartner analysts:
Businesses also need to consider what skills they will need to develop to meet the demands of next-generation mobile users.
"IT teams are not going to develop every mobile app themselves, but they will have to have a strategy for delivering more of this stuff," said Jones.
For example, it may make sense for an IT department to have HTML5 skills in house, he said.
Risk
The third important strand is to assess risks and privacy, so that companies do not risk alienating customers by misusing personal details.
CIOs have an opportunity to make a mark with mobile applications, said Jones.
"It's an opportunity to raise the support of IT and to genuinely support and enhance the business," he said.