Government CIOs 'lack the skills' for cloud transformation
Key figures in Whitehall have warned that the majority of government CIOs do not have the right skillset for a move to cloud-based IT procurement.
Kathleen Hall
Kathleen Hall is correspondent for Computer Weekly. She writes about technology issues in small to medium-sized enterprises, as well as specialising in the retail and services sectors.

Download this free guide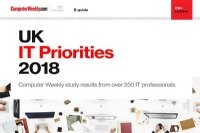 The future of UK tech: Cloudy with a chance of Artificial Intelligence
The forecast for the future is in and, in typical British fashion, it looks like it's going to be cloudy. Our IT Priorities survey has revealed that organisations are planning on making the most of the cloud in the future. Download our IT Priorities results for more insights into where the IT industry is going.
Previously Kathleen worked as business reporter for Vitesse Media, covering SMEs and enterprise IT.
Follow her on Twitter @KatHallCW
kathleen.hall@rbi.co.uk Active Kathleen Hall False True
Key figures in Whitehall have warned that the majority of government CIOs do not have the right skillset for a move to cloud-based IT procurement.
As the public sector increasingly moves to a pay-as-you-go IT model based around cloud services, the challenge for government departments will be ensuring they don't fall back into old habits of signing large contract lock-ins with system integrators [SIs], according to a departmental source.
"It must be easy for departments to move to cloud services," the source told Computer Weekly.
"The bulk of government CIOs are people whose experience lies in dealing with SIs and not transformation to commodity IT."
The comments come as the government's cloud roll-out - the so-called G-cloud - gets off the ground, with a new strategy expected to be published this month.
A framework agreement with cloud suppliers is also expected to be released at the end of the year. This will be a key publication for the government as it is intended to create an open, collaborative way of working which will include more SMEs, said the departmental source.
Small business cloud providers such as Memset have long awaited the launch of the government app store, as it is hoped this will create the opportunity for them to compete with larger players on an equal platform.
"I think this has the potential to be hugely disruptive, with system integrators now being forced to adapt to keep up with us," said Memset managing director Kate Craig-Wood.
G-cloud applications are intended to save significant amounts of money for departments and local authorities, creating a shift away from bespoke IT services to a pay-per-use model. It is also hoped they will enable a more flexible approach to government IT purchasing, as organisations will be able to swap between products based on performance and requirement changes.
The foundation delivery partners in the initial trialling of government cloud services will include the Home Office, Department for Education, the British Council, Ordinance Survey, and Warwickshire County Council, suppliers have verified.
Huddle, FCO Services, Memset and Salesforce.com are among the suppliers who will be trialling the products, with Google already testing cloud-based e-mail services at Warwickshire County Council.
MetaKeywords MetaDescription Sensitive Landingpage False
Read more on IT news in your industry sector