Cybersquatting plagues pharmaceutical brands
Cybersquatting of leading pharmaceutical brands has reached an all-time high, according to the latest BrandJacking Index research by MarkMonitor.
Cybersquatting of leading pharmaceutical brands has reached an all-time high, according to the latest BrandJacking Index research by MarkMonitor.

Download this free guide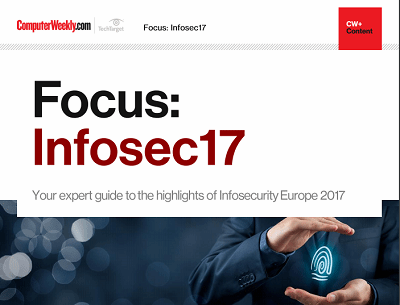 From forensic cyber to encryption: InfoSec17
Security technologist Bruce Schneier's insights and warnings around the regulation of IoT security and forensic cyber psychologist Mary Aiken's comments around the tensions between encryption and state security were the top highlights of the keynote presentations at Infosecurity Europe 2017 in London.
By submitting your personal information, you agree that TechTarget and its partners may contact you regarding relevant content, products and special offers.
You also agree that your personal information may be transferred and processed in the United States, and that you have read and agree to the Terms of Use and the Privacy Policy.
Cybersquatting is the registration of domain names containing a brand, slogan or trademark to which the registrant has no right.
The enterprise brand protection company found that cybersquatting of drug brands rose 35% for the year.
As a result, said MarkMonitor, online consumers are at greater risk from sales of questionable drugs in illicit online pharmacies and business-to-business exchange sites.
"Our year-over-year trend data shows a grave situation. The number of people looking to save money by buying pharmaceuticals over the web is growing rapidly, while scammers are more aggressively exploiting loose controls over online sales of drugs," said Irfan Salim, chief executive officer of MarkMonitor.
"As consumers increasingly turn to the internet to buy medications, brandholders must ensure these customers are not faced with the potentially life-threatening risk of buying fake or sub-standard medications."
The research shows the online sales of fake, expired or grey-market drugs continue to grow, as traffic to questionable sites triples and marketing tactics become increasingly aggressive.
Of the 2,986 online pharmacies studied, only two were Verified Internet Pharmacy Practice Sites (VIPPS), the industry credential that assures consumers of legitimate online pharmacy operations.
More than one-third of the online pharmacies in the study generate enough traffic to merit an industry Alexa ranking. Each of these sites sees an average of 99,000 visitors daily, more than triple the daily visitors noted in 2007.
Using industry statistics for traffic conversion and average order sizes, MarkMonitor estimates that this traffic converts to £6bn in annual sales for the major six drug brands studied, an increase from the 2007 estimate of £2bn.
Marketers for these pharmacies and sites are becoming increasingly aggressive. MarkMonitor estimates brandjackers spend £13m annually for search advertising using only those six brand keywords.
Representative sampling of pricing for one popular drug brand shows an 85% average price discount at illicit pharmacies when compared to certified pharmacies.
And 64% of these 2,986 pharmacies do not secure customer data, putting consumers' identity information at risk. This number has grown compared to 50% last year.
MarkMonitor said 49% of the 2,986 pharmacies were hosted in the US, followed by the UK which hosted 12%, and Germany which hosted 9%.
Exchange sites that sell pharmaceuticals in bulk quantities by the pill as well as selling active pharmaceutical ingredients (APIs) risk corrupting the overall drug supply chain.
Analysis of just 40 listings on exchange and trade sites shows a £15m wholesale market for the six brands studied.
Read more on IT risk management