Project portfolio management offers clarity in IT investment strategy
The bottom-up process of identifying and approving projects in most organisations is highly emotional and intensely political. The result is often a plethora of projects doomed to failure. Project portfolio management is emerging as a solution.
We normally define project failure in terms of time, money and specification. A typical end-of-project report will state that the project was late, cost too much or failed to meet the users' requirements. The National Audit Office reports on public sector projects that fail to meet these criteria.

Download this free guide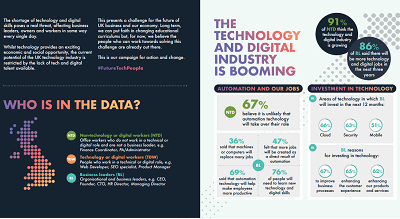 Infographic: How to future-proof UK technology
There is no doubt that the technology industry is booming right now, bringing with it exciting social and economic opportunities. However, there is a real fear that the UK industry may be stunted due to the lack of talent available. This e-guide helps to break down the future fears and expectations of dozens of business leaders and tech workers.
In organisational change projects, however, this misses the key issue: how did the project improve the organisation's performance? In other words, what were the benefits?
Many organisations pay lip service to benefits. Before we initiate our projects, we normally ask if the project is "worthwhile" or if it "stacks up". Someone will often try to justify the project. Projects are often approved because of the persuasiveness and authority of the individuals pushing the idea.
But nearly all forms of project, justification leads to benefit duplication.
Most planned projects will claim to deliver cost savings, generate additional income or create non-financial benefits. On closer examination, it is common to find that many projects were justified on the expectation of eliminating exactly the same costs and generating the same additional profits as other projects.
The holistic approach
Project portfolio management (PPM) is a top-down approach designed to solve these problems. PPM proposes that only a holistic view of the project workload will answer the vital question: what is the best possible portfolio of projects that will most improve the organisation?
The PPM selection and approval process hinges on a programme board that is responsible for examining and approving all change projects within an organisation or at least a part of the organisation. The inputs to the programme board are:
- The organisational strategy
- The current picture of the live projects
- The current overall resource availability to work on projects
The outputs of the programme board's regular meetings are approved projects.
PPM is a very much a top-down approach. It values doing the right projects over doing projects right. It concentrates on outcomes, not outputs. PPM delivers the organisation's strategy through a carefully selected, optimal portfolio of projects. It often means starting fewer projects but finishing more. It puts the focus on delivering improvements measured through benefits.
Discovery projects
To support the most informed decision-making, each new idea is often subjected to a discovery project.
Discovery projects are designed to analyse each new suggestion in a cold, analytically and independent manner. A relatively small budget will support a discovery project ending in a report providing a detailed and independent evaluation of the proposal.
A discovery project will report the expected outcomes of the proposed project described in terms of expected income, savings, return on investment plus strategic alignment through its expected impact on key performance indicators. These will be signed off by the line management.
The inputs to the proposed project will include the investment, resource demands and risk estimates. In addition to a clearer picture of the new idea, the discovery project process weakens the political and emotional pressure frequently applied by the project's originator.
PPM is gathering strength and support. The US-based Project Management Institute published their Project Portfolio Management standard in 2006. The UK-based Association for Project Management recently published their Introduction to Programme Management emphasising the benefits of PPM. Microsoft launched Project Portfolio Server in 2007, and a range of other tools have since emerged.
I have yet to hear anyone argue that PPM is not perfectly logical. When explained to someone outside of the IT fraternity the usual question is: how else could you possibly select your projects?
In many organisations, PPM is low-hanging fruit. Its cost is low and its rewards can be great.
The PPM project selection cycle:
- Approval to Proceed
- PPM
- Selection and Approval Process
- Discovery projects
- Suggestions
- Live Projects
- Progress
- Updates
Geoff Reiss is a Fellow of the Association for Project Management and President of the Programme Management SIG. He was recently voted a "top 10 influencer in project management" He has four successful books to his name and is both freelance and independent.
Read more on IT project management