Office manager uses BackUpMaster to save Yorkshire school's data
School IT files were saved from the recent Yorkshire floods with a fast and flexible data-storage and back-up solution.
School IT files were saved from the recent Yorkshire floods with a fast and flexible data-storage and back-up solution.
When the Toll Bar village school near Doncaster was warned that rapidly rising storm waters were on their way, office manager Anne Newton realised she had time to rescue all the school's computer records with the BackUpMaster unit the school had owned for just two weeks.

Download this free guide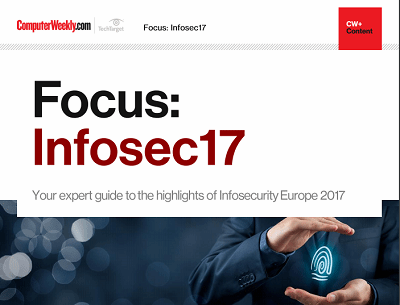 From forensic cyber to encryption: InfoSec17
Security technologist Bruce Schneier's insights and warnings around the regulation of IoT security and forensic cyber psychologist Mary Aiken's comments around the tensions between encryption and state security were the top highlights of the keynote presentations at Infosecurity Europe 2017 in London.
By submitting your personal information, you agree that TechTarget and its partners may contact you regarding relevant content, products and special offers.
You also agree that your personal information may be transferred and processed in the United States, and that you have read and agree to the Terms of Use and the Privacy Policy.
Toll Bar Primary School is now one of 40 schools out of the 170 schools in the Doncaster area that rely on the BackUpMaster platform from TakeWare.
The "beyond tape" solution promises to cut data retrieval and average storage time from hours to around 15 minutes, with 100% file recovery.
Just hours after Newton rescued the data all classroom information files, plus essential school administration documents, were reinstalled and running on another Doncaster local education authority computer - while the original computer wallowed in three feet of floodwater.
The data protection move has smoothed the transfer of 150 Toll Bar pupils to other schools, while repair work is carried out.
Newton said of the system, "It meant that I could save every one of our pupils' Word, Excel and office documents within 15 minutes. Our old system would have taken four hours. Everything would have been lost."
BackupMaster uses the patented Plug&Go technology from TakeWare. The hot-pluggable standalone software extracts all computer data at high speed.
Compatible with SIMS (School Information Management System) as well as a wide range of other educational and commercial software, it forms a modern alternative to older tape technology conventionally used in the educational and business sector.
SpecSavers and Vision Express are among the commercial organisations that have now deployed the TakeWare solution.
Floods offer £170m IT disaster planning lesson >>
How to plan for the unexpected >>
Disaster recovery planning keeps flooded firms afloat >>
Comment on this article: computer.weekly@rbi.co.uk
Read more on IT risk management