Prioritise retention as staff get itchy feet, warns report
Employers are coming under pressure to develop more effective strategies to retain their best IT staff in the face of competition from rival employers.
Employers are coming under pressure to develop more effective strategies to retain their best IT staff in the face of competition from rival employers.

Download this free guide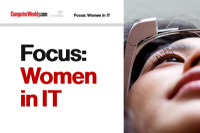 Gender diversity in the technology sector
In this e-guide, we tackle the issue of diversity in the IT industry and try to uncover why the number of women choosing IT as a career has been stagnating over the past few years. We also dissect some of the solutions that will help to increase the number of women in IT offered up by those fighting on the front line.
Rising demand for highly skilled staff, an improvement in the jobs market and a declining pool of qualified staff are pushing up staff turnover rates, according to a report by recruitment website IT Job Board.
The proportion of IT professionals looking to change jobs in the next six months is 54%, a survey of 3,000 IT professionals revealed, up from 48% at the height of the dotcom boom.
The trend will put pressure on employers to invest in training their IT staff, to provide clear career development paths, and to offer attractive pay packages and benefit schemes.
The report says IT departments have grown complacent over retaining their staff following the dotcom crash, and they need to rethink their ideas as the market improves.
"The market is like a coiled spring. Employees knew there was nothing out there and so stayed in their jobs and HR got lazy. Now there are far more companies looking for staff and employees are ready to listen," said Ed Gallagher, head of staffing at technology company Openwave, which contributed to the research.
Employers with poor retention policies risk losing out financially, with recruitment costs running anywhere between 50% and 200% of the annual salary for the job.
An organisation with 200 IT staff earning an average salary of £40,000 a year, would face costs of £1.2m a year on the most conservative estimates if staff turnover rates reach 30%, the report said.
The report advises employers with high staff turnover rates to seek feedback from staff to determine the reasons for this. But it warns that staff rarely give frank feedback during exit interviews, advising firms to use consultants and anonymous surveys instead.
Good retention begins during recruitment, the report says, and hiring employees that fit into the organisation is more important than skills and experience.
"In difficult markets there is a danger that IT employers become desperate for staff and lower standards, but this will only damage quality and retention in the medium- and long-term," the report says.
Schemes that pay bonuses to existing staff for finding candidates to fill vacancies are particularly effective at identifying quality candidates.
IT services company Perot Systems Europe told researchers that this approach had helped it bring in high-quality staff, improved networking among employees and reduced recruitment costs.


Vote for your IT greats
Who have been the most influential people in IT in the past 40 years? The greatest organisations? The best hardware and software technologies? As part of Computer Weekly's 40th anniversary celebrations, we are asking our readers who and what has really made a difference?
Vote now at: www.computerweekly.com/ITgreats


Read more on IT jobs and recruitment