More Badware named and shamed
StopBadware.org, the initiative developed to combat spyware, has announced the addition of four software programs to its Badware Watch List.
StopBadware.org, the initiative developed to combat spyware, has announced the addition of four software programs to its Badware Watch List.
The list has been created to spotlight software programs that embed malicious spyware without the online user's knowledge or consent.
It is supported by Harvard Law School's Berkman Center for Internet & Society, and Oxford University's Oxford Internet Institute, both members of StopBadware.org.

Download this free guide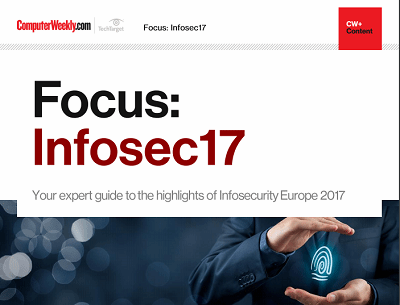 From forensic cyber to encryption: InfoSec17
Security technologist Bruce Schneier's insights and warnings around the regulation of IoT security and forensic cyber psychologist Mary Aiken's comments around the tensions between encryption and state security were the top highlights of the keynote presentations at Infosecurity Europe 2017 in London.
By submitting your personal information, you agree that TechTarget and its partners may contact you regarding relevant content, products and special offers.
You also agree that your personal information may be transferred and processed in the United States, and that you have read and agree to the Terms of Use and the Privacy Policy.
"We're identifying four more applications pointed out by consumers that failed our tests for badware," said John Palfrey, co-director of StopBadware.org and executive director of the Berkman Center.
"We hope that the light shed on these programs will encourage these and other application developers to change their deceptive ways.
"These reports, along with the others listed on our Badware Watch List, will hopefully serve as an effective tool to help consumers make a more informed decision before they download one of these applications," said Palfrey.
Badware monitored by the organisation covers spyware, pop-up advertising and obtrusive programs that cannot easily be removed by users.
Programs now listed include FunCade, a gaming software application that comes bundled with BullsEye and NaviSearch, which are both adware programs.
When removing the FunCade software from machines, users find that the bundled adware and spyware programs remain on the machine.
Also listed is Team Taylor Made's "Jessica Simpson Screensaver", which bundles more than a dozen pieces of software, including undisclosed adware, a dialer which automatically dials pay-for porn sites with a modem, and toolbars that modify the installer's browser.
The third program identified is UnSpyPC, an application that incorporates a non-standard hard drive scan upon installation, and which also identifies legitimate software, such as VMWare, WinPatrol and Windows Defender as spyware.
It also adds an UnSpyPC icon to the Internet Explorer browser without notification.
WinFixer 2005 and 2006 have also been identified as badware.
Both versions of WinFixer deceptively attempt to get the user to purchase the full version of its software by making exaggerated claims about "severe system threats" on the user's computer, said StopBadware.
The program also makes it difficult to opt out of purchasing the software altogether.
WinFixer 2005 also installs a rootkit, which can make the program difficult to detect and remove.
Launched last year, StopBadware.org has a 5,000-strong badware monitoring community around the world.

Read more on IT risk management