UK grid tackles climate change assessment
Oxford University, the Met Office and several other universities have developed a huge grid computer for the BBC to predict climate change up to 2080.
Oxford University, the Met Office and several other universities have developed a huge grid computer for the BBC to predict climate change up to 2080.

Download this free guide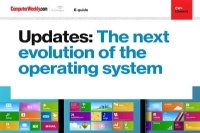 Unpacking the future of operating systems
In this e-guide, we take a look at how updates are the next evolution for operating systems. From security and iris recognition to 3D modelling and easier recognition with OneDrive, updates are key to keeping your device fresh and, most importantly, safe.
The climateprediction.net experiment harnesses the spare computing power of tens of thousands of PCs, and will rival supercomputers for power, said Oxford University.
The system will rank among other massive public grids such as the search for extra-terrestrial intelligence (SETI) and the human genome project.
The BBC has invited volunteers to download an application, which is a version of the Met Office's state-of-the-art climate model. It processes data automatically when their PC is online, and sends it back to Oxford University.
"In certain applications, such as our massive ensemble of climate simulation, we are achieving greater than supercomputer levels of computing power," said Carl Christensen, chief software architect of climateprediction.net project at Oxford University.
But he added that the grid will not replace supercomputers, which are still required for very high resolution climate and weather modelling, due to high memory and CPU usage, and the volume of data output.
Surprisingly, the grid is co-ordinated using "a few off-the-shelf servers", one for the database and one for the website, plus a few desktop PCs, said Christensen.
The servers are 2.4GHz dual-Intel Xeon systems with 2Gbytes of memory, but can support data from 80,000 volunteers.
The project uses very fast C++ client and server code, and the mySQL database, a system pioneered by the University of California, Berkeley.
"Even a humble server set-up such as ours can handle quite a large number of user requests, so basically for a few thousand dollars you can support a project that is doing 100 teraflops," he said.
The project was not without its difficulties, though.
"The primary technical challenge has always been in porting the climate model, which is about a million lines of legacy Fortran code developed by hundreds of scientists over the past two decades," said Christensen.
Developers had to tailor this for various PC platforms, including Windows, Linux and Mac OS X.
Another challenge is the small number of computing employees on the project - there are only two full-time computing staff carrying out system administration, code development, database programming and managing the website and graphics.
Also taking part in the project are the University of California, Berkeley; the University of Reading; Open University; and Rutherford Appleton Laboratory.