Exchange 12 will boost mobility and governance
Corporate governance, mobile access for end users and lowering the cost of e-mail administration will be the primary focus of Exchange 12.
Corporate governance, mobile access for end users and lowering the cost of e-mail administration will be the primary focus of Exchange 12.
Tech Ed delegates were given preview details of some of the key developments to the new version of Exchange, Microsoft's e-mail server, which is not due for release until 2006/7.

Download this free guide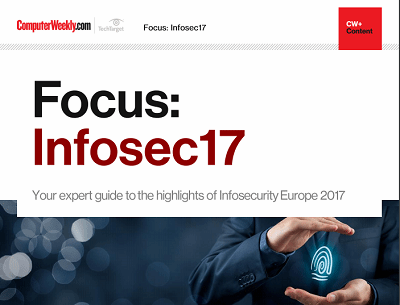 From forensic cyber to encryption: InfoSec17
Security technologist Bruce Schneier's insights and warnings around the regulation of IoT security and forensic cyber psychologist Mary Aiken's comments around the tensions between encryption and state security were the top highlights of the keynote presentations at Infosecurity Europe 2017 in London.
By submitting your personal information, you agree that TechTarget and its partners may contact you regarding relevant content, products and special offers.
You also agree that your personal information may be transferred and processed in the United States, and that you have read and agree to the Terms of Use and the Privacy Policy.
Delegates also received a demonstration of the mobility and security functions in Exchange 2003 Service Pack 2, which will be available by the end of 2005.
Troy Zaboukos, Exchange lead product manager at Microsoft said, "We want to enable low-cost mail boxes through continuous backup." According to Zaboukos, a major headache for e-mail administrators has been the need to back-up the entire Exchange server every night. This can be complex, expensive and inefficient, given that in some cases, only 1% of data changes each day.
With continuous backup, the IT department runs two Exchange 12 servers; the second logs each sent and received e-mail from the main server, allowing instant backup. With this facility, Zaboukos said, "I expect tape backups to be [conducted] maybe once or twice a week."
End users will be offered unified messaging through integration between Exchange 12 and the corporate telephone system (PBX). This will allow users to pick up faxes and voicemail through Outlook. Zaboukos said the software will also allow users to listen to e-mail messages by dialling into their Outlook in-box.
Exchange 12 will be the last release to support public folders, which are used to share documents. Zaboukos said Microsoft's policy was to encourage users to run SharePoint server for document sharing instead.
In Exchange 12, end users who access the e-mail server via a web browser using Outlook Web Access (OWA) will be able to access documents stored in SharePoint, a task that is not possible today.
Before Exchange 12 hits the market, Microsoft will offer enhanced mobility with the second service pack for Exchange 2003, which will be extended in Exchange 12.
As previously reported in Computer Weekly, with Service Pack 1 and in conjunction with a number of mobile operators, Exchange administrators can configure the server to push e-mail onto devices running Windows Mobile 5.0 and manage the devices remotely across a mobile network.
Read more on IT risk management