Global DSL subscription grows to 78 million
Broadband digital subscriber line (DSL) led a global boom in broadband internet access over the past 12 months which ended 30...
Broadband digital subscriber line (DSL) led a global boom in broadband internet access over the past 12 months which ended 30 June, growing to about 78 million total subscribers as users of all broadband services surpassed 123 million.

Download this free guide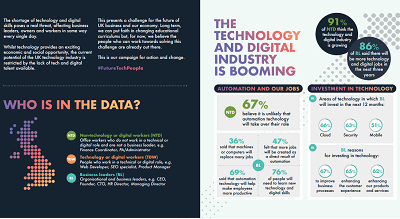 Infographic: How to future-proof UK technology
There is no doubt that the technology industry is booming right now, bringing with it exciting social and economic opportunities. However, there is a real fear that the UK industry may be stunted due to the lack of talent available. This e-guide helps to break down the future fears and expectations of dozens of business leaders and tech workers.
There were more than 30 million new DSL subscribers - a growth rate of more than 62% - while broadband subscriptions overall grew at 55%, according to the DSL Forum.
DSL's gain in total subscriber numbers was more than double that of cable and other broadband access technologies, the group said. Industry analysis company Point Topic compiled the figures for the DSL Forum from carrier records, said Forum spokeswoman Kristi Kosloske.
DSL subscriber growth was fastest in South and East Asia, at 110%, followed by 107% growth for the year in Africa and the Middle East and 104% in Latin America.
However, Europe nudged the Asia-Pacific region as a whole out of the top spot for total DSL subscriptions, gaining about 11 million subscribers to surpass 23 million. There were just under 23 million DSL users in the Asia-Pacific region.
The most dense DSL deployments remain in East Asia, led by South Korea, where 28.7% of phone lines carried DSL in the second quarter of this year. Taiwan had 20.8% penetration, and in Hong Kong, 19.6% of lines had DSL. Iceland, Belgium and Israel filled out the top five markets for DSL penetration.
Mainland China, excluding Hong Kong, led the world in DSL subscriptions at 12.7 million, jumping up from fourth place a year earlier with nearly seven million new subscribers. Japan was the second-largest DSL market with just over 12 million subscriptions and the US was third with 11.4 million. South Korea was fourth, with 6.7 million and Germany fifth, with five million.
Counting all technologies, the US is the largest broadband market in the world with 29.1 million total subscribers. US DSL subscriptions grew by four million, or about 48%, in the 12-month period, compared with 31% growth in cable and other technologies, the Forum said. DSL's market share in the US is 39%.
Stephen Lawson writes for IDG News Service