Enterprise-class tape library purchase considerations
Picking the best tape library for enterprise deployment is a serious challenge. This guide focuses on the specific considerations of enterprise-class tape libraries.
Tape remains the quintessential backup storage technology for many organisations, offering relatively low media costs, broad backup software support, and convenient offsite storage potential for disaster protection. But picking the best tape library for enterprise deployment is a serious challenge.

Download this free guide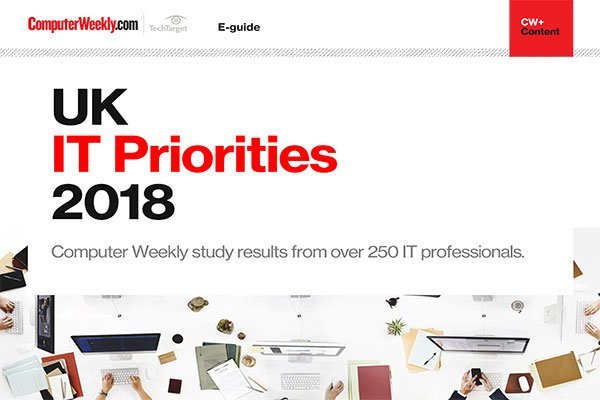 2018 UK IT Priorities survey results
IT organisations in the UK and across Europe are starting to accelerate the move to the cloud. Read more about the key areas in which senior IT managers are planning to invest in over the next 12 months.
This guide focuses on the specific considerations of enterprise-class tape libraries. You'll also find a series of specifications to help make on-the-spot product comparisons between vendors like Quantum, Hewlett-Packard, IBM, SpectraLogic and others. Beyond the essential considerations involved in any backup product, there are several additional considerations for enterprise-class tape library systems:
Consider the library capacity for tape drives and tape media. The Scalar i2000 tape library from Advanced Digital Information Corporation (ADIC) can support up to 96 LTO-3 tape drives, and house anywhere from 100 to 3492 tape cartridges, yielding a total (theoretical) capacity of (3492 x 800 gigabytes) 2,794 terabytes (TB) of compressed data. Libraries like the PX720 from Quantum Corp., can support a variety of drive types including SDLT 320, SDLT 600, DLT-S4, LTO-2 and LTO-3. In most cases, a tape library will not ship fully loaded. Instead, a library will typically ship with fewer drives, and the number of tape cartridges will expand over time.
Consider the connectivity options. Many tape libraries employ FC or SCSI host bus adapters (HBAs) for connectivity directly to a SAN switch. As an example, Qualstar's XLS includes integrated support for up to four dual-ported HBAs -- eight ports total. Gigabit Ethenet ports may be available for connection across a LAN. A standard Ethernet port may allow LAN connectivity for tape library management applications like Qualstar's X-Link or the BlueScale Environment with SpectraLogic Corp., libraries.
Consider data transfer rates between the library and network. Transfer rates generally limit your backup window. For example, the XLS product from Qualstar Corp. is available in a variety of modular configurations touting native data transfer rates from 1.1 TB/h up to 27.6 TB/h. An enterprise with 10 TB to backup would then require a nine hour backup window with the 1.1 TB/h configuration, or less than 20 minutes with the 27.6 TB configuration. Transfer rates are generally influenced by additional I/O modules installed in expanded library configurations.
Consider the tape storage environment. When considering a tape library, be sure to evaluate the long-term internal storage conditions such as temperature, humidity and contamination. Some libraries try to optimise tape and drive reliability by introducing filtered positive air pressure to reduce dust and other contaminants. If tapes are stored offsite, remember to inspect the conditions at any remote location as well.
Read more on Networking hardware