ClearCube releases next-generation PC blades
ClearCube Technology has launched two new high-performance PC server blades.
ClearCube Technology has launched two new high-performance PC server blades.
The ClearCube R1300 features an Intel dual-core Pentium processor and the R2200 employs dual Intel Xeon processors with Hyper-Threading (HT).
ClearCube claims that they are the fastest single and dual-processor PC blades available and are designed to significantly enhance the enterprise user experience. Both blades are fully capable of running Microsoft's upcoming Vista operating system, including Aero, Vista's advanced user interface.

Download this free guide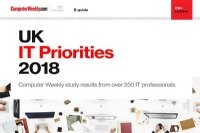 The future of UK tech: Cloudy with a chance of Artificial Intelligence
The forecast for the future is in and, in typical British fashion, it looks like it's going to be cloudy. Our IT Priorities survey has revealed that organisations are planning on making the most of the cloud in the future. Download our IT Priorities results for more insights into where the IT industry is going.
In launching the new blades, ClearCube says that it is being consistent with its strategy to enable secure wired or wireless user connections between centralised blades and remote access devices.
The blades also are complemented by the company's new Sentral management software, which enables IT administrators to manage entire blade deployments from a single console. In addition, Sentral supports virtualised desktop computing environments, thus aiming to enable IT departments to increase the utilisation of their compute resources without affecting the end-user experience.
"Blades are the backbone of any centralised computing solution and they have to meet the performance needs of users today while "future proofing" for upcoming technologies like Vista and virtualisation," says Carl Bosivert, president and CEO of ClearCube.
"Our blades are backwards compatible [so that a customer's] IT investment is designed to scale with their enterprise in the future."

Read more on Data centre hardware