MS antitrust case - court to rule on stay of EU sanctions
A decision on whether to suspend the European Commission's anticompetition sanctions against Microsoft pending appeal will be...
A decision on whether to suspend the European Commission's anticompetition sanctions against Microsoft pending appeal will be announced on Wednesday (22 December).

Download this free guide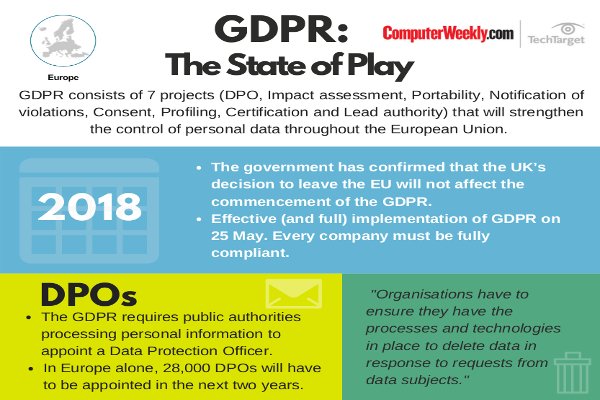 Infographic: GDPR - The State of Play
Get the latest information on how GDPR is going to affect your business and how to avoid any unwanted fines with this simple infographic.
While Microsoft wants to win the suspension, the decision and the legal findings supporting it are seen more as an opportunity to approach the Commission for further negotiations on the case.
"Microsoft is hopeful that the court order will provide an opening for further discussion on how to address the Commission's concerns," said Horacio Gutierrez, Microsoft's general counsel for Europe.
The decision by the European Court of First Instance (CFI), in Luxembourg, had been expected this week.
CFI president Bo Vesterdorf is considering whether to delay two sanctions imposed on the software manufacturer when the Commission ruled in March 2003 that Microsoft abused its dominance in the desktop software market to gain advantages in related markets, such as media players.
Microsoft was ordered to release a version of its Windows operating system in Europe without its Windows Media Player (WMP), and reveal enough server software code to allow rivals to build competing products that work well with Windows.
It also levied a fine of €497m (£344m) which Microsoft has already paid; the sum is being held in a special account pending the appeal's outcome.
If Vesterdorf denies a stay on either count, Microsoft would be expected to comply quickly, probably within a couple of weeks, according to the source close to the company.
However, both the software manufacturer and the Commission are allowed to appeal Vesterdorf's decision, which could delay the outcome further.
Vesterdorf is attempting to stave off a further appeal by supplying a lengthy and thorough judgment that addresses the various legal matters involved, according to the source.
It is difficult to get approval for this appeal, and to do so parties must make a convincing case that there are legal matters that have not been adequately addressed.
If Vesterdorf denies the request for suspension of both sanctions, and a further appeal is not requested or approved, the ruling could lead to a significant change in how Microsoft supplies products, analysts said.
If Microsoft must supply a version of Windows without WMP, it raises questions about how the Commission will look at other bundled products, such as the next version of the company's desktop operating system, Longhorn, due in 2006.
However, if the sanctions are suspended and there is no further appeal of Vesterdorf's decision, Microsoft could do business as usual until its appeal of the case is decided - a process that is expected to take from two to five years.
The company appears to be shooting for a middle ground where it can negotiate lighter sanctions with the Commission and step away from what looks like years of legal wrangling.
"We continue to believe that these complex issues are best resolved through discussions between the parties," Microsoft said.
Since Microsoft filed the request for a stay of the sanctions in June, it reached settlements with two of its main opponents in the case, Novell and the Computer and Communications Industry Association (CCIA).
When the settlements were announced last month, Microsoft senior vice-president and general counsel Brad Smith said the agreement with the CCIA "removes the most substantial obstacle" to its settlement of the European anticompetition case.
The last remaining company with broad-based complaints in the case is RealNetworks, which argued that Microsoft unfairly wielded its dominance on the desktop to proliferate WMP, to the detriment of Real's player software.
Scarlet Pruitt writes for IDG News Service
Read more on IT legislation and regulation