NEC announces speedy supercomputer
Less than a month after IBM claimed the world's fastest computer crown from NEC, the Japanese company is trying to win it back...
Less than a month after IBM claimed the world's fastest computer crown from NEC, the Japanese company is trying to win it back with a new supercomputer that will be available from December.

Download this free guide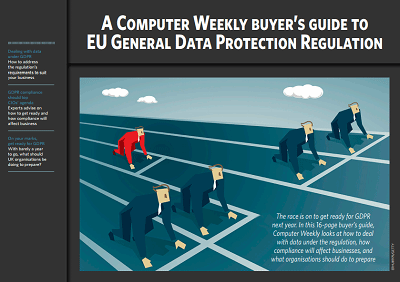 Computer Weekly's Buyer's Guide to GDPR
The race is on to get ready for GDPR next year. Computer Weekly looks at how to deal with data under the regulation, how compliance will affect businesses, and what organisations should do to prepare.
NEC's SX-8 is a vector supercomputer that has a peak processing performance of 65 teraflops (trillion calculations per second), said Susumu Sakamoto, a spokesman for NEC.
That is almost twice as fast as the 36.01 teraflops achieved in September by a prototype version of IBM's Blue Gene supercomputer.
That performance, measured using the standard Linpack benchmark, made Blue Gene the fastest supercomputer in the world ahead of the NEC-built Earth Simulator supercomputer, which had managed a sustained performance of 35.86 teraflops on the same benchmark.
However the SX-8 hasn't edged out Blue Gene yet. Its performance figure is only an estimate, albeit one NEC thinks it can achieve.
There are three versions of the SX-8 available, two single-node and one multi-node, and the 65 teraflops performance refers to the top-of-the-line multi-node machine. This has the maximum of 512 nodes, each with eight processors to make a total of 4,096 processors.
The maximum memory is 64Tbytes and the maximum data transfer rate is 262Tbits per second. The two single node versions are the SX-8/A, with between four and eight processors, and the SX-8/B, with between one and four processors.
NEC is planning to begin shipping the SX-8 to customers from December. Monthly rental costs will begin at ¥1.17m (£5,966) for the SX-8/B single-node version of the machine. Prices for other models were not available.
The company hopes to sell more than 700 SX-8 computers in the next three years, it said. The machine's architecture is typically suited to work involving analysis of large amounts of data, such as meteorological forecasting, environmental simulation and automotive crash analysis.
Even if NEC's SX-8 does succeed in knocking Blue Gene off the top spot on the supercomputer ranking, it is unlikely to hold the number one position for long.
The IBM machine benchmarked in September is an eight-rack prototype for a system IBM is developing for the Lawrence Livermore National Laboratory. It is expected to be delivered in early 2005 and will have an estimated peak performance of 360 teraflops.
Martyn Williams writes for IDG News Service
Read more on Server hardware