BEA votes in favour of open-source Java
BEA Systems has voted in favour of Sun Microsystems making parts of its Java technology open source.
BEA Systems has voted in favour of Sun Microsystems making parts of its Java technology open source.
"We'd like to go on the record publicly in favour of open-sourcing J2SE, and we've been working behind the scenes on this," said Scott Dietzen, BEA's chief technology officer, during a speech at the JavaOne show in San Francisco.

Download this free guide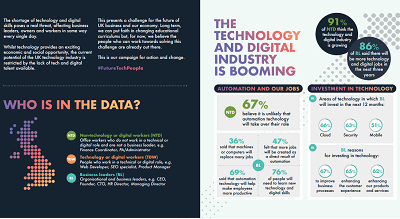 Infographic: Future-proofing UK technology
The current potential of the UK technology industry is restricted by the lack of tech and digital talent available. Read through this challenge for the future of UK business and our economy.
By submitting your personal information, you agree that TechTarget and its partners may contact you regarding relevant content, products and special offers.
You also agree that your personal information may be transferred and processed in the United States, and that you have read and agree to the Terms of Use and the Privacy Policy.
J2SE, or Java 2 Standard Edition, is considered the desktop version of Java, although many suppliers also base their Java application servers on it. J2SE version 5, codenamed Project Tiger, was announced this week.
Making Java open source would lead to more innovation around the Java language and fits with the business models of Java suppliers, who in any case do not profit from core components like the Java virtual machine, Dietzen said. At the same time, he said, compatibility cannot be relaxed.
"Allow everyone to innovate freely, but if you want to ship with the Java brand you've got to be compatible. That way you as developers know you'll be working with compatible Java code," Dietzen said. He also called for more openness in compatibility testing kits.
IBM sparked the furor over open-source Java in February when it urged Sun to make the move in a public letter. IBM argued that it would help to expand Java's reach and boost innovation. Sun has said it is open to the idea but has yet to decided either way.
A panel will discuss the matter at JavaOne, with top engineers from Sun and IBM joined by Stanford University Law Professor Lawrence Lessig, IT publisher Tim O'Reilly and others.
BEA, along with IBM, makes one of the two most widely used Java application servers.
James Niccolai writes for IDG News Service