Users to gain as Ofcom threatens to break up BT
Users could have a much greater choice of telecoms provider and potentially lower costs if telecoms regulator Ofcom orders the...

Download this free guide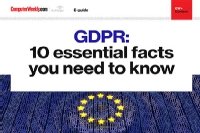 10 essential facts you need to know about GDPR
In this e-guide, we give you the top 10 key facts you need to know about the General Data Protection Regulation according to privacy lawyer and KuppingerCole analyst, Karsten Kinast.

Users could have a much greater choice of telecoms provider and potentially lower costs if telecoms regulator Ofcom orders the separation of BT's wholesale and retail businesses.

Ofcom last week presented its initial findings of a review into how the telecoms market should be regulated and is considering whether a break-up of BT would benefit telecoms users.

The Communications Management Association, which represents telecoms managers in user businesses, has called on the regulator to take action to prevent BT Retail receiving preferential treatment from BT Wholesale - the division that sells on the telecoms giant's services to other telecoms providers.

David Harrington, leader of the CMA's regulatory affairs forum, said, "We cannot go on as we are. The present situation creates barriers to entry and reins back innovation.

"The advent of IP-based services has turned old, comfortable notions of regulation on their head, and a posse of new players is emerging, all of whom are looking for unfettered freedom to launch services to businesses," he said.

The association said that competitors to BT Retail are supposed to receive the same treatment from the wholesale division of the company. However, when it came to pricing, there was a suspicion that BT Retail could enjoy better procurement terms, easier contracts and superior quality of service than BT's rivals.

Ofcom chief executive Stephen Carter said, "We seek to answer fundamental questions: sustainable competition; the regulatory role; investment incentives; structural arrangements [of BT]; and the citizen-consumer interest."

A BT spokesman rejected any proposed break-up, saying such a move would cause more problems than those currently perceived by its competitors.

He said the present structure allowed BT to invest in the local loop and other areas, and a break-up would be a disincentive for continued investment into the network infrastructure users rely on.

Julian Hewett, an analyst at market analyst firm Ovum, said, "Splitting wholesale and retail is a good idea - but only in theory. It might be the way you would design the industry if you were starting from scratch, but not in today's climate."

He said a break-up of BT would take two years to complete and new technology products over the next five years could bypass the current BT network altogether.

Ofcom will publish its recommendations in September.
Read more on IT legislation and regulation