Data mining initiative angers US privacy groups
A project by US law enforcement agencies and states to merge criminal and public records with commercial databases has angered...
A project by US law enforcement agencies and states to merge criminal and public records with commercial databases has angered privacy groups.
The Multistate Anti-Terrorism Information Exchange, or Matrix, was conceived by database products company Seisint, and developed with input from Florida law enforcement, the FBI, the US Citizenship and Immigration Services, and the US Secret Service as a way to aggregate data from various databases to fight terrorism.

Download this free guide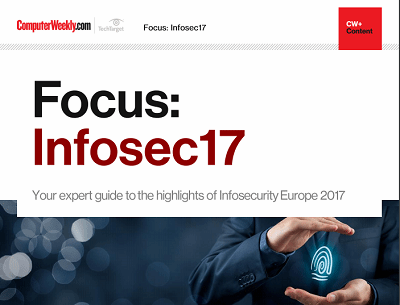 From forensic cyber to encryption: InfoSec17
Security technologist Bruce Schneier's insights and warnings around the regulation of IoT security and forensic cyber psychologist Mary Aiken's comments around the tensions between encryption and state security were the top highlights of the keynote presentations at Infosecurity Europe 2017 in London.
By submitting your personal information, you agree that TechTarget and its partners may contact you regarding relevant content, products and special offers.
You also agree that your personal information may be transferred and processed in the United States, and that you have read and agree to the Terms of Use and the Privacy Policy.
A number of states - including Connecticut, Florida, Georgia, New York and Utah - have enrolled in the free and voluntary Matrix programme. But just like the US government's Total Information Awareness (TIA) surveillance infrastructure before it, civil liberties group are sounding alarms about Matrix.
The American Civil Liberties Union (ACLU) calls Matrix a data surveillance program every bit as dangerous and Orwellian as TIA.
In October 2003, the group filed Freedom of Information Act requests in each of the five participating states to find out what data is in the system and who has access to it.
The ACLU is worried that too much information is being collected by Matrix, including credit history and the names and addresses of individuals' family members and associates, and that the system could be made available to federal law enforcement agencies in the future. The group is also concerned that Matrix could expand to track people's purchasing habits and demographic information.
Bill Shrewsbury, a vice president at Seisint, which hosts the system and supplies the search technology, denied those allegations and insisted Matrix is not storing credit history data. Instead, officers who are pursuing a crime and have the name of an individual or some other data such as licence number, can use it to perform searches, which are recorded and audited.
Matrix can be accessed only by law enforcement personnel over a dedicated and secure network from special terminals in the states that participate in the programme.
Paul Roberts writes for CSO
Read more on IT risk management