Alcatel slashes 2003 net loss
Alcatel has more than halved its net loss for the fourth quarter of 2003 and full year compared with the previous year.
Alcatel has more than halved its net loss for the fourth quarter of 2003 and full year compared with the previous year.
The French telecommunications equipment manufacturer made a net loss in the fourth quarter of €524m (£286m) on sales of €3.77bn (£2.1bn), compared with a loss of €1.11bn on sales of €4.51bn a year earlier.

Download this free guide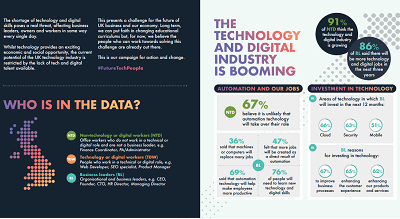 Infographic: How to future-proof UK technology
There is no doubt that the technology industry is booming right now, bringing with it exciting social and economic opportunities. However, there is a real fear that the UK industry may be stunted due to the lack of talent available. This e-guide helps to break down the future fears and expectations of dozens of business leaders and tech workers.
For the full year, the net loss fell to €1.94bn on sales of €12.5bn, compared with a loss of €4.75bn on sales of €16.5bn in 2002.
The biggest improvement in performance came in the company's fixed networks segment, where it transformed an operating loss of €155m in the fourth quarter of 2002 into an operating profit of €142m in 2003.
Sales fell to €1.65bn for the quarter, down from €2.01bn a year earlier. The company said there was strong demand for broadband access equipment delivering 5.1 million DSL (Digital Subscriber Line) lines during the quarter.
Sales fell slightly at the company's private communications segment, but operating income for the quarter improved slightly, to €95m compared with €93m a year earlier.
The segment included enterprise telecommunications and videoconferencing equipment, along with rail communication systems, and accounts for €1.1bn of Alcatel's sales. An increasing proportion of office telecommunications equipment sales are of IP systems.
The mobile communications segment accounted for 29% of revenue for the quarter. Alcatel deployed 1,500 3G base stations for its network operator customers. Operating income fell to €122m for the quarter, compared with €131m a year earlier.
More than half of Alcatel's sales were made in Europe. Western Europe accounted for 45% of sales in the fourth quarter, other European countries 8%, North America 14%, Asia 18% and the rest of the world 15%.
The company expected sales to resume growth in 2004, accelerating after the first quarter which is seasonally a slow one, with a return to profitability for the full year.
The company said it is investing in research and development of IP services routers, and expected its carrier customers to upgrade their ATM (Asynchronous Transfer Mode) networks to new ones based on IP/MPLS (Multi-Protocol Label Switching).
Peter Sayer writes for IDG News Service