IBM's Piper sets out to lure EMC customers
IBM is arming 100 of its consultants and a handful of its channel partners with a storage migration appliance, codenamed Piper,...
IBM is arming 100 of its consultants and a handful of its channel partners with a storage migration appliance, codenamed Piper, which is claimed to simplify and speed up the replacement of old storage arrays.

Download this free guide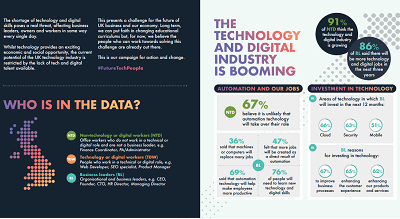 Infographic: Future-proofing UK technology
The current potential of the UK technology industry is restricted by the lack of tech and digital talent available. Read through this challenge for the future of UK business and our economy.
By submitting your personal information, you agree that TechTarget and its partners may contact you regarding relevant content, products and special offers.
You also agree that your personal information may be transferred and processed in the United States, and that you have read and agree to the Terms of Use and the Privacy Policy.
Piper is part of a new campaign to entice EMC customers to switch to IBM, said Lou Sciacchetano, IBM's vice president for worldwide competitive storage sales. The company has also created a methodology for evaluating and assessing customers' needs in migrating from EMC systems.
The Piper appliance comes in two versions. The open-systems version is based on eight Vicom Systems data migration engines, Fibre Channel switches, a management console, and an Ethernet hub. It can be used to transfer data from a variety of operating-system environments, including Solaris, Windows, NetWare, and HP-UX. IBM also has a version of Piper for its mainframe customers, which is built around an s/390 Multiprise 3000 system.
Piper can work in either an asynchronous mode, where the data transfer occurs in the background as the system continues to run, or it can operate in a synchronous mode, where the host system is brought down and the data transfer occurs much more rapidly.
Piper may be a unique appliance, but IBM's real strength against a storage firm like EMC is its ability to be the sole vendor for both server and storage sales, said David Reine, a senior analyst with industry research firm Clipper Group.
"IBM is going after a very vulnerable piece of EMC's business," he added.
The US Department of Agriculture's National Finance Center (NFC) recently hired IBM to migrate some of its 30T bytes of mainframe storage onto an IBM "Shark" Enterprise Storage Server 2105-F20.
For the NFC, which had been using storage devices from a variety of suppls, including EMC, StorageTek, and Hitachi Data Systems, Piper's key benefit was the amount of time it saved.
"I manage 30T bytes of on-line mainframe storage," said Bob Cosby, a storage administrator with NFC. "I did not have the luxury of time to spend moving data. It would have taken me months."
IBM technicians required about 96 hours to transfer 3T bytes of data from NFC's legacy systems to the 13T-byte Shark array. "It's a neat feature to be able to move the data. I'm sure they're trying to snatch as much of EMC's business as they can," said Cosby.
Robert McMillan writes for IDG News Service