Telecoms meltdown continues
The downturn in the telecoms sector could hit businesses harder than the dotcom crash, so IT directors must plan for the worst,...

Download this free guide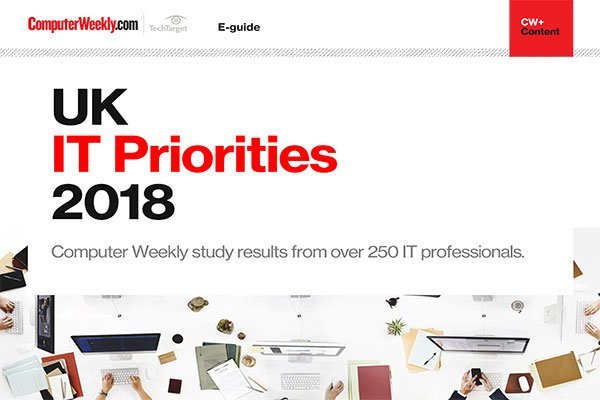 UK IT Priorities 2018 survey results
Download this e-guide to discover the results of our 2018 UK IT Priorities survey, where IT leaders shared with us what they are going to be investing in over the coming 12 months.

By submitting your personal information, you agree that TechTarget and its partners may contact you regarding relevant content, products and special offers.

You also agree that your personal information may be transferred and processed in the United States, and that you have read and agree to the Terms of Use and the Privacy Policy.

The downturn in the telecoms sector could hit businesses harder than the dotcom crash, so IT directors must plan for the worst, writes Antony Adshead



This week's announcement that telco Energis is to sever its European operations in a bid to keep its debt-burdened UK operations afloat is being seen as evidence that the telecoms sector meltdown has not yet run its full course.

Some commentators believe the seismic shifts in the telecoms sector could have a bigger impact on the business world than last year's dotcom collapse.

Unable to influence events but directly affected by them, user companies from SMEs to bluechip giants are watching the telcos' internal turmoil with trepidation. Bankruptcies, splits and takeovers are making managing relationships and planning for the future an onerous task for IT directors.

David Harrington, director general of the Communications Management Association (CMA), described the roots of the situation and how it is affecting CMA members. "There is a situation of oversupply and a lack of confidence on the part of telco investors. Telcos therefore cannot borrow, the share price falls and cuts are made," he explained.

"There is a noticeable fall-off in quality of service, from the front line to account management. It is affecting our members through an overall uncertainty of security of supply - having all one's eggs in one basket can see them all get broken if the supplier goes down, and long-term budgeting is made difficult.

"Most of our members are already 'dual-homed' out of a sense of survival. Large companies have teams dedicated to monitoring the markets to see what's coming, but for many - especially SMEs - this is impossible, and it is not easy to switch contracts."

For smaller businesses the problems centre on getting satisfactory customer service when they lack the financial muscle to either overcome the internal inertia prevalent in telcos or to hedge their bets.

One IT director at a medium-sized media company with offices in the UK and mainland Europe described the problems of dealing with a big-league telco. "Recently we were trying to consolidate our telephony for a number of UK offices. We negotiated a new tariff and number of discounts but it has taken months of aggravation to actually get what we were promised," she said.

"Every time we call we have to go through a long process of telling them who we are and about our account - there seems to be a disconnectedness inside their organisation."

It is easy to see why this is often the case. Telcos are making huge cuts in the number of staff they employ. Experienced staff are being laid off, and there is a general drop in motivation among those that are left behind.

"It has made us extra cautious in our dealings with them and other telcos," said the media company IT director. "We are very careful in committing our business to telcos now. We have to consider whether they will be around in the future and what our exposure to their failings is likely to be.

"We now plan stringently before entering agreements and we are negotiating get-out clauses, trying to get a greater right of termination for our business."

While smaller businesses have trouble simply being heard, large companies, which have the capacity to support teams dedicated to managing supplier relationships, are also being hit by the telco turmoil.

John Wright, European telecoms manager at Xerox Europe, said, "The underlying worry is that the focus is removed from the customer. The telcos are more focused on their share value.

"The practical concern is continuity of service and questions of relationships, especially if you are a multinational. With the break-up of [the BT/AT&T international alliance] Concert we found ourselves being contracted to AT&T while receiving services from BT.

"All in all, what it costs us is time. When you go into a contract you have to apply resources to a due diligence process. With a break-up you have to go through it all again. This forced us to change strategy. We were looking at telcos merging to form larger organisations and getting single global contracts, then we saw break-ups and had to deal with smaller entities. Now we have effectively outsourced our dealings with telcos to our IT provider EDS."

Analysts are advising firms of all sizes to wrest control of the situation from their suppliers by formulating back-up plans that ensure they are not left at the mercy of events.

Michael Halama, a telecoms analyst at Gartner, said his company has been advising clients for some time that they need to consider supplier relationships in the longer term. "The big question is will the supplier be around in future? There are a lot of costs associated with changing horses in midstream, especially if you have to do it in a hurry," he said.

"Fundamentally, you need a contingency plan, even if you are happy with the situation at the moment. Things that need to be considered include whether you have a relationship with the incumbent telco. They are often seen as lumbering and inefficient, but they may be useful as a fallback supplier. Look at the deals you have got from present suppliers - is it worth a short-term gain if the supplier is looking shaky?"

But what about small businesses? Despite having limited resources, there are some measures that can be taken.

"Hedging is difficult to pull off unless you are a large business," said Halama. "But there are possibilities for everyone, even if you don't act there and then. Have potential suppliers in to talk to see where you could go if you need to."

Harrington advised IT directors to put a cushion between their business and the telco. "Look at aggregators - suppliers who act as third parties to supply telephony services using a variety of wholesalers," he said.

With no end in sight for the troubled telecoms market, IT managers and telecoms professionals will clearly have to make some difficult decisions when choosing suppliers over the coming months.

Countdown to meltdown
February 2001

Cisco freezes recruitment
March 2001

Cisco sheds 5,000 jobs, representing 11% of its workforce


Cisco shares fall to $20.63 from a 52-week average of $82
May 2001

BT reports a quarterly loss of £2.8bn
September 2001

Ericsson reports Q3 losses to September of $550m and announces 22,000 job cuts
October 2001

Colt's share price plunges 22%


BT/AT&T Concert joint venture axed at a cost of $7bn


3Com's workforce dips to 6,000 from a 12,000 high, the company's share price falls to $4 from a $22 high


Nortel reports Q3 losses of $3.6bn and sheds 50,000 jobs


Alcatel reports Q3 losses of $507m. It cuts 33,000 jobs in 2001
December 2001

Motorola loses $153m in Q3. Job losses total 48,400 in 2001
February 2002

BT's profits slump, slashing £14.5bn from its share value


Cisco's profits are double analysts' expectations - "positive signs of recovery" says chief executive John Chambers


Energis' share value falls by 77% in two days. The company is valued at £50m, down from a £14bn high


Colt sheds 500 jobs
April 2002

Worldcom shed 3,700 jobs and has debts of $30bn. It confirms the US Securities and Exchange Commission (SEC) has begun an investigation into its corporate accounting practices.


Energis, with debts of £1bn, offloads European business units.
Read more on IT for small and medium-sized enterprises (SME)