Open source virtualisation guide: Oracle VM, Novell and RHEL compared
Open source virtualisation technology is a real alternative to VMware and Hyper-V. We compare Linux virtualisation architectures from Oracle, Novell and Red Hat in this story, to help you understand how (or if) these products belong in your infrastructure.
In the face of so many options, how do you choose an open source virtualisation technology? In this section of our guide, we review some of the standout considerations in choosing a virtualisation technology and how the options we've outlined in this guide stack up. The three major open source virtualisation software technologies are quite similar. After all, they are all based on the same ingredients. Let's conclude this guide with a short list of characteristics to help you choose among the various open source virtualisation technologies. First, you've read about Oracle's virtualisation technology, Oracle VM. Oracle offers a decent technology with a Web-based management interface that is a pleasure to use. But Oracle VM is focused on Oracle environments and is thus optimized for an Oracle environment. If you don't use other Oracle applications Oracle VM is hardly an ideal virtualisation choice.
Red Hat Enterprise Linux (RHEL) virtualisation has a solid offering as well. The problem with RHEL's virtualisation offering is that customers have too much choice. In the current release of Red Hat Enterprise Linux, Xen is the default virtualisation solution, but with the acquisition of KVM, Red Hat has made a clear statement: KVM is the future. But the fact that KVM is not yet the default choice indicates Kernel-based Virtual Machine architecture is not ready for use. Thus the dilemma for Red Hat users: You don't want to build your virtualisation environment based on technology that may disappear, but you don't want to build your solution on immature software, either.
Linux virtualisation with Novell SUSE Linux Enterprise Server (SLES) is clearer for the user: The virtualisation architecture is based only on Xen, and you can use Novell virtualisation for free; it comes as a standard offering in SLES. But with Novell's virtualisation, management capabilities are limited, with only Virtual Machine Manager and the difficult virsh interface available. But for many environment, the management tool PlateSpin Orchestrate, on the other hand ,just seems to be too much. Red Hat, however. is working on oVirt, an open source Web-based virtualisation interface, and this might be the technology that can make open source virtualisation easy.
Oracle VM
In this section of our guide on open source virtualisation, we explore Oracle VM virtualisation architecture. Oracle VM virtualisation consists of two components: Oracle VM Manager and Oracle VM Server. Oracle VM Server is the back end of the Oracle virtualisation technology and provides the hypervisor that enables you to create virtual machines. This hypervisor is a tuned version of the Xen-based hypervisor present in other virtualisation technologies, such as Citrix XenServer, Novell Xen (or SUSE Linux) virtualisation ,and Red Hat Enterprise Linux.
To manage the virtual environment, Oracle offers Oracle VM Manager. This Web-based user interface allows administrators to manage server pools, Oracle VM servers, virtual machines and server resources. Oracle VM Manager was developed as a complete technology that allows you to create and configure guest virtual machines and perform advanced administration tasks as well, such as load balancing of virtual machines, or virtual machine high availability.
Figure 1
Oracle VM Manager enables administrators to manage server pools. (Click image for an enlarged view.)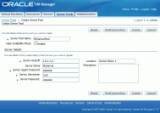 Oracle Virtual Machine has been developed as a technology that has to integrate with other Oracle products., Oracle Enterprise Manager 10g, for example, introduces the Oracle VM Management Pack, that allows you to manage not only the virtual machines but also OSes and software that run on these VMs from a well-integrated interface.
Oracle's effort to offer one integrated solution also shows from its Oracle VM Templates. These templates contain complete pre-installed, pre-patched and pre-configured Oracle product instances as a virtual machine. Using these templates makes it easier to complete even complex installation tasks rapidly way, because templates are available for various complex applications, including Siebel CRM and Oracle SOA Suite. As an administrator, you just have to integrate the template into your current management environment and start it to have a complete virtual solution up and running in a short time. (For more, check out this side-by-side comparison of how Oracle virtualisation architecture compares with VMware virtualisation.
Red Hat

In this section of our guide on open source virtualisation software, we explore Red Hat Enterprise Linux (RHEL) virtualisation and libvirt, the default management application programming interface for Red Hat Enterprise Virtualisation (RHEV) virtual machines. @REG Red Hat is the second major player in open source virtualisation, with its Red Hat Enterprise Virtualisation technology. In the current version of RHEL 5, RHEV is based by default on the Xen hypervisor. But since the September 2008 acquisition of Qumranet, the creator of the Kernel-based Virtual Machine, or KVM, hypervisor, Red Hat's future position is clearly trained on KVM virtualisation. According to Paul Cornier, Red Hat's executive vice president of engineering, the acquisition was meant to position Red Hat alongside Microsoft as the only two providers with a comprehensive technology that spans operating system, management, infrastructure and virtualisation.
In the meantime, Red Hat has worked hard to integrate KVM in its Red Hat Enterprise Linux (RHEL). The fact is that RHEL 5.4, the default hypervisor, is still based on Xen. KVM virtualisation is available, but only if you perform an installation that deviates from the defaults.
In RHEV, management is based on the libvirt interface. This is a generic API, to which different management solutions can talk. Such solutions include the command line based virsh, the basic graphical management utility virt-manager and the relatively new advanced Web-based management tool oVirt. The latter tool, however, is a relatively new development which is not available yet for RHEL in a final version.
Figure 2
The libvert interface is the default management technology for Red Hat Enterprise Virtualisation virtual machines. (Click image for an enlarged view.)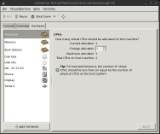 The advantage of libvirt is that managing virtual machines can be done in similar ways whether you use Xen or KVM as your hypervisor technology. That means that solutions such as virtual machine live migration (moving a machine from one host to another without creating VM downtime) and high availability are available from both technologies. Of these, live migration is offered from the Virtual Machine Manager interface. To create a high availability solution, apart from RHEV, the additional configuration of Red Hat Cluster Suite is required as well.
Novell
Novell SUSE Linux Enterprise Server (SLES), is yet another incarnation of Linux virtualisation. In this section of our guide on open source virtualisation software, we explore Novell's breed of Linux virtualisation and its virtualisation architecture. @REG Since it abandoned its flagship NetWare operating system, Novell has invested greater resources in its Linux technolgoy -- and especially data center Linux. SUSE's Xen-based virtualisation is an important part of that strategy. In this technology, SLES is used as the virtualisation host. On top of that host, Linux and Windows virtual machines can be created. Kernel-based Virtual Machine (KVM) is not yet available for SUSE Linux Enterprise Server, but for future releases of SLES, Novell is working on a stable KVM solution as an alternative offering.
While KVM is not yet available as a stable solution in SLES, the Novell offering is comparable to the Red Hat offering. Novell virtualisation is also based on the Xen hypervisor, with libvirt as the application programming interface, which offers access to management interfaces such as virsh, Virtual Machine Manager, and more. Apart from the standard technologies, Novell also offers the more advanced management solution PlateSpin Orchestrate, a versatile product that enables you to manage (or "orchestrate" in Novell terminology) virtual and physical resources from one interface. But this product is so complicated that you can't download it for a free test-drive and can order it only from Novell, which creates a custom technology based on the needs of the customer.
Creating virtual machines with Novell's technology is easy. On the installation of the SLES operating system, you indicate what you want to do: install a specific virtualisation host or integrate the Xen virtualisation software in an existing instance of SUSE Linux Enterprise Server. Both options create the same result, but some customers feel better when their virtualisation host is a dedicated virtualisation host.
After the installation of the host platform, you can create virtual machines right away. To do so, use the difficult but versatile virsh command line interface, or the graphical Virtual Machine Manager. In case you believe that this utility is available directly from the console of the host itself, that's not the case. Using an SSH connection you can start Virtual Machine Manager from anywhere in the network, as long as an SSH connection is available, it will just work (with PuTTY and a Window Manager like Xming combined it even runs from Windows).
Figure 3
Novell offers PlateSpin Orchestrate as their extensive proprietary solution for virtual machine management. (Click image for an enlarged view.)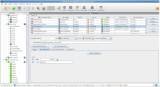 Read more on Virtualisation management strategy