My VMworld Europe: An expert's adventures in Copenhagen
Our VMware expert gives his account of VMworld Europe 2010, including the up and downs of the new Copenhagen location and the quality of this year's attendees.
For me, the conference season is now drawing to a close. Now that my backlog and frontlog have been dealt with, it's time to look back on the craziness that was VMworld Europe 2010!
Firstly, I want to say how pleased I was overall with this year's venue in Copenhagen. In contrast to the Palais des Festivals in Cannes, the Bella Convention Centre, located just outside of central Copenhagen, was a much better venue. There was a much bigger sense of space for both the breakout sessions and the Solutions Exchange, which made the whole place a pleasant environment to be in. The venue in Cannes was just too old and cramped to be comfortable, and there were frequent choke-points around various stairwells and lifts that made it difficult for delegates to get around.
Initially, I was worried that getting to and from the Bella Convention Centre would cause hassles, but the local Copenhagen Metro excelled itself. Also, some of my best informal chats happened with delegates who I met on the way there. In one case, I spent the whole day just hanging out with a VMworld attendee whom I met on the Metro.
True, there were a number of people who went in the wrong direction or got off a stop too early, but apart from those niggles, getting to and from the venue was a breeze. So despite being a building site -- because of the construction of a new hotel near the convention centre -- the venue worked. And as a Brit, it was relief not be in France for five years in a row!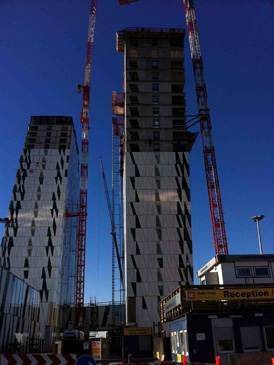 One of my other worries was about the proximity of the San Francisco and Copenhagen events. Previously, VMworld Europe (formerly VMware TSX) would take place in early spring, and VMworld US would run in September.
In some respects, this would "top and tail" the year nicely, and in some cases Europe would actually get a sneak preview of what VMware was doing in the future before those pesky Americans! The worry was that the EU event would be cannibalised by the much larger US event. In some respects, this was true. I felt the number of Europeans at the US event was down from previous events, and much of the content delivered in San Francisco was repeated in Copenhagen. So for those, like me, who attended both events, it did feel as if Copenhagen was a rerun. But with that said, the event was well attended, and with the EU contingent in the main deciding to attend Copenhagen rather than San Francisco, the event was "new to them."
At the end of the chat [with Chad Sakac], I began to see how the old method of storing data in columns, rows and relational tables just wasn't going to scale for the cloud.

Mike Laverick, VMware expert,
The biggest challenge seemed to be for the exhibitors. With many of the smaller players in the ecosystem having to be in the uncomfortable position of choosing one event over the other, vendors whom I hoped to spend more time with in San Francisco simply didn't make it to Copenhagen. I believe this was because their marketing budgets were taking a big hit in a single quarter rather than being spread out over the year.
Additionally, whereas in San Francisco most sessions were repeated at least twice -- and in some notable cases three times -- in Copenhagen those sessions only ran just once, presumably because of the much small number of attendees compared to San Francisco. It's worth remembering that the EU event has always been a smaller and more intimate gathering than the sometimes overwhelming VMworld US event.
As for me, I will carry on attending both events -- Copenhagen offered me a second "bite of the cherry" to attend more sessions, arrange more meetings and spend more time in the Solutions Exchange than I had been able to do at VMworld US. For me, it's important to be at both events -- as it's the one time in the year I can meet and greet colleagues on both sides of the pond in the flesh. And for folks who attend both events, it's an opportunity to reinforce relationships with people who you met just a month or so ago.
VMworld Europe User Awards
One of the highlights for me at Copenhagen was being a judge in the first ever VMworld Europe User Awards. The awards were the brainchild of the TechTarget team, and they managed to secure VMware as the main sponsor. Unlike other awards programmes at other events -- which normally recognise vendor software and hardware -- the intention was to recognise and reward end-users out there in the field using virtualisation software to solve real-world problems.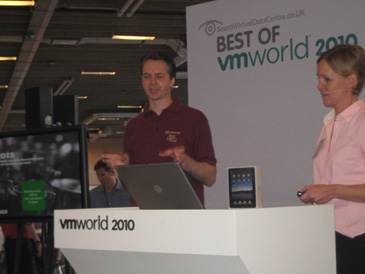 I was delighted that my fellow judges agreed to award "best in show" to fellow Brit Simon Gallagher for his work on vTARDIS. In case you haven't come across Simon's work (www.vinf.net), basically it's an HP ML115 with 12 GB of RAM and an internal solid-state drive. This box runs VMware's ESX server together with a further six virtual ESX hosts (sometimes referred to as "nested" ESX), which in turn can run up to 60 smaller Linux virtual machines (VMs).
As you might gather, Simon's vTARDIS is a pun on the famous Dr. Who time-traveler. Just like Dr. Who's TARDIS is larger on the inside than on the outside, Simon's vTARDIS has more servers on the inside than on outside! The judges were really impressed that Simon was able to do so much with so little. And it reminded us of the spirit of the early days of virtualisation, when folks had to be very creative in terms of getting a home lab up and running.
Simon's work isn't simply remarkable for its technical finesse (the server includes a firewall, shared storage and support for advanced vSphere features like VMotion, HA and DRS) but has practical uses for people in the community wanting to prepare for their VCP. I can see it being used to create a "sandbox" environment that could be used by businesses to test vSphere administration changes prior to rolling them out in a production environment.
It's my hope that we will see these user awards at VMworld US next year -- although how on earth we will find the time to judge both vendor and user awards is anyone's guess!
As with all events, it's not just about the great labs and breakout sessions you can attend, which makes the four days feel sometimes like a custom training course. It's about the people you meet and talk to. I was able to spend time with many of the attendees of the London User Group in an informal atmosphere and listen to their opinions and attitudes. They are a great resource for finding out the challenges customers have in the real world -- not just from a technical perspective, but from the all important business perspective too. It was also my great honor to meet informally with VMware's CTO, Steve Herrod. Steve's a great guy and very approachable, but I think I missed my chance to impress!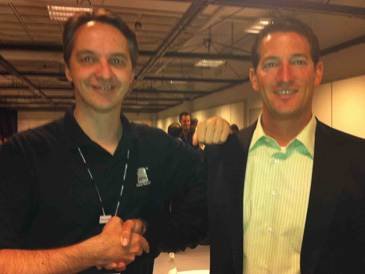 Of course, all my friends on Facebook and Twitter couldn't resist the opportunity to tease me that I was actually standing by a cardboard cutout, and my hand was there to stop the CTO from running away!
EMC and SpringSource
I had a very fruitful and informative evening meal with the VP for VMware Alliances at EMC, Chad Sakac. You should know Chad from his very popular website.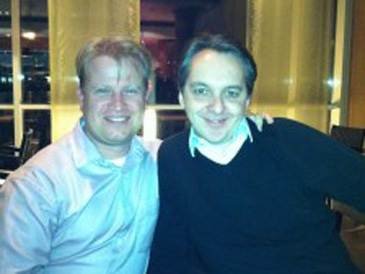 As it was a private meeting, I can't repeat much of what was discussed, but I came out with something which I feel is very important: a much stronger appreciation of the VMware SpringSource acquisition. Listening to Chad talk, I could begin to see how together with EMC's recent acquisition of the database platform GreenPlum -- a new vision of how data could be stored and interrogated is being created. At the end of the chat, I began to see how the old method of storing data in columns, rows and relational tables just wasn't going to scale for the cloud. For organisations that collect a great deal of "metadata" from social networks such as Facebook and so on, it's extremely hard to store this data in the SQL format and interrogate it with old style SQL queries.
With so many folks being active in social media, it has been a great resource for businesses to find out what their customers really think and feel -- in a way that conventional market research and questionnaires systematically fail to deliver on. As an infrastructure guy, I didn't really understand why VMware would want to own something like SpringSource -- now I do. Of course, I'm in the worst position to take advantage of this opportunity, but I have a friend from my university days who is a Java daemon and has used SpringSource for some time. So as soon as I got back from VMworld, I made a point of getting him on Skype to discussion the implications. Who knows, maybe from what I told him, he will end up being yet another VMware employee!
MIKE LAVERICK'S BIO:
Mike Laverick is a professional instructor with 15 years of experience with technologies such as Novell, Windows and Citrix and has been involved with the VMware community since 2003. Laverick is a VMware forum moderator and member of the London VMware User Group Steering Committee. In addition to teaching, Laverick is the owner and author of the virtualisation website and blog RTFM Education, where he publishes free guides and utilities aimed at VMware ESX/VirtualCenter users. In 2009, Laverick received the VMware vExpert award and helped found the Irish and Scottish user groups. Laverick has had books published on VMware Virtual Infrastructure 3, VMware vSphere 4 and VMware Site Recovery Manager.
Read more on Server virtualisation platforms and management